It is a toss-up as to whether November or March is the least favourite month for weather here in Kingston. Both are dreary with chilly rain and snow – but very good times for making hot soup.
LEFT BRAIN: Cauliflower Soup
White just may be the new black – or orange – in this soup! The terrific aspect of this simply prepared soup is that it can be a down-home comforting supper with biscuits and salad, or dressed up for an elegant prelude to a company meal. Its gentle flavour encourages variations (see mine below) so create your own special garnishes!
Makes 4 to 6 servings
1 tbsp (15g) butter
1 medium onion, diced
1 stalk celery, sliced
2 garlic cloves, sliced
3 – 4 cups (750 – 1 L) chicken or vegetable broth
3 in (7.5 cm) sprig of fresh rosemary or thyme (see below for dried amounts)
1 head cauliflower, broken into florets
1/4 cup (5 g) chopped fresh parsley
Pinches of finely-grated lemon zest (optional)
Heat butter in a soup pot or large saucepan over medium heat. Sauté onion, celery and garlic. Cook 5 minutes or until softened. Stir in 3-cups of broth and thyme or rosemary. Bring to a boil.
Add cauliflower florets. Bring to a boil. Simmer 15 minutes or until vegetables are very soft. Then puree soup in a blender or food processor and return to pot. Add more broth if it needs a bit of thinning.
Heat soup and ladle soup into warmed bowls. Sprinkle with parsley and lemon zest.
TIP: Dried herbs: Keeping in mind that even dried, rosemary is strong and thyme is gentle, so add a small amount at first, maybe a quarter teaspoon of rosemary and a half teaspoon of thyme leaves.
Consider planting thyme in your garden next year as it survives our snowy Canadian winters just fine (-31C / -24F is our record low at our house). Rosemary can be grown in a pot out of doors and brought in for the winter, if needed, as the plant is hardy outdoors to only -7C / 20 F.

OPTIONS:
Cheddar & Bacon: Top each serving with about a tablespoon (.5 oz/14g) shredded cheddar cheese and a healthy pinch of crumbled crisp cooked bacon (4 slices should be enough for the whole recipe).
Crispy Duck (or Chicken): Using the pot in which you will make the soup, heat butter and brown a skinless duck leg (or two skinless chicken thighs) on both sides. Leaving leg or thighs in the pot, continue making soup. When ready to purée soup, remove leg or thighs and shred. To make crispy, heat 1 tbsp (15 mL) of oil in a small frying pan over medium heat until hot and add shreds. Sauté 5 to 7 minutes, or until browned and crispy in places; then use to garnish soup.
Vegetarian or Vegan: Use olive oil (instead of butter) and vegetable stock. Garnish with chopped fresh herbs. Top with cubes of crispy fried tofu for a protein garnish.
Roll small cubes of firm tofu in cornstarch and fry in generous hot oil for 5 minutes or until crispy.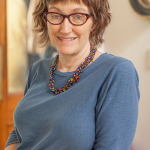 Joanna's comments:
Can you even remember hating cauliflower? Mind you there was a lot of arduous boiling of vegetables when we were young. Mature palates will be craving a second helping of this sumptuous soup.
RIGHT BRAIN: Faux Gumbo
I created this soup after making a traditional gumbo which was a multi-layered affair with dredged flour and bacon fat… more work than I wanted for a delicious and uncomplicated filling soup. Fear not the okra, just slice it as thin as you can as it thickens your soup and no one even knows it is there.
Serves 6+ supper-sized bowls
5 slices bacon
1 medium to large (7oz/210g) onion sliced
1 large (5oz/150g) red pepper chopped
28oz/796ml tin diced tomatoes
5c/1.25L chicken or turkey stock
6 okra (3oz/90g in total), finely sliced
2 1/2 c/12oz/350g frozen corn
1/3c/3oz/90g converted rice
12oz/350g, or more if you have it, left-over cooked chicken or turkey, shredded by hand
Sauté bacon until semi-crisp and set aside, chopping when cool enough to handle.
Pour off most of the bacon fat and discard. Sauté the onions and pepper in remainder.
Pour in the tomatoes, stock, slivered okra and bring to a boil. Leave it to simmer covered. It will thicken up due to the okra so no need to reduce the volume.
Add corn and rice and continue gently cooking for about 15 minutes.
As soon as the rice is just cooked, add the chicken and heat through. Ladle into hot bowls and serve it up.
OPTIONS: You could add some shrimp at the same time as the chicken because the shrimp poaches to perfection in the hot broth. For adding spicy sausage such as chorizo, break up and brown with the bacon.
TIP: When storing the soup, use a sieve to strain out the solids and store separately from the broth, thereby protecting the rice (or noodles) from exploding into a gummy mess.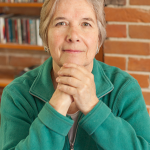 Marilyn's comments:
My husband and I thoroughly enjoyed slurping down this gumbo a day after it was made as Joanna's straining tip above made it seem freshly made.