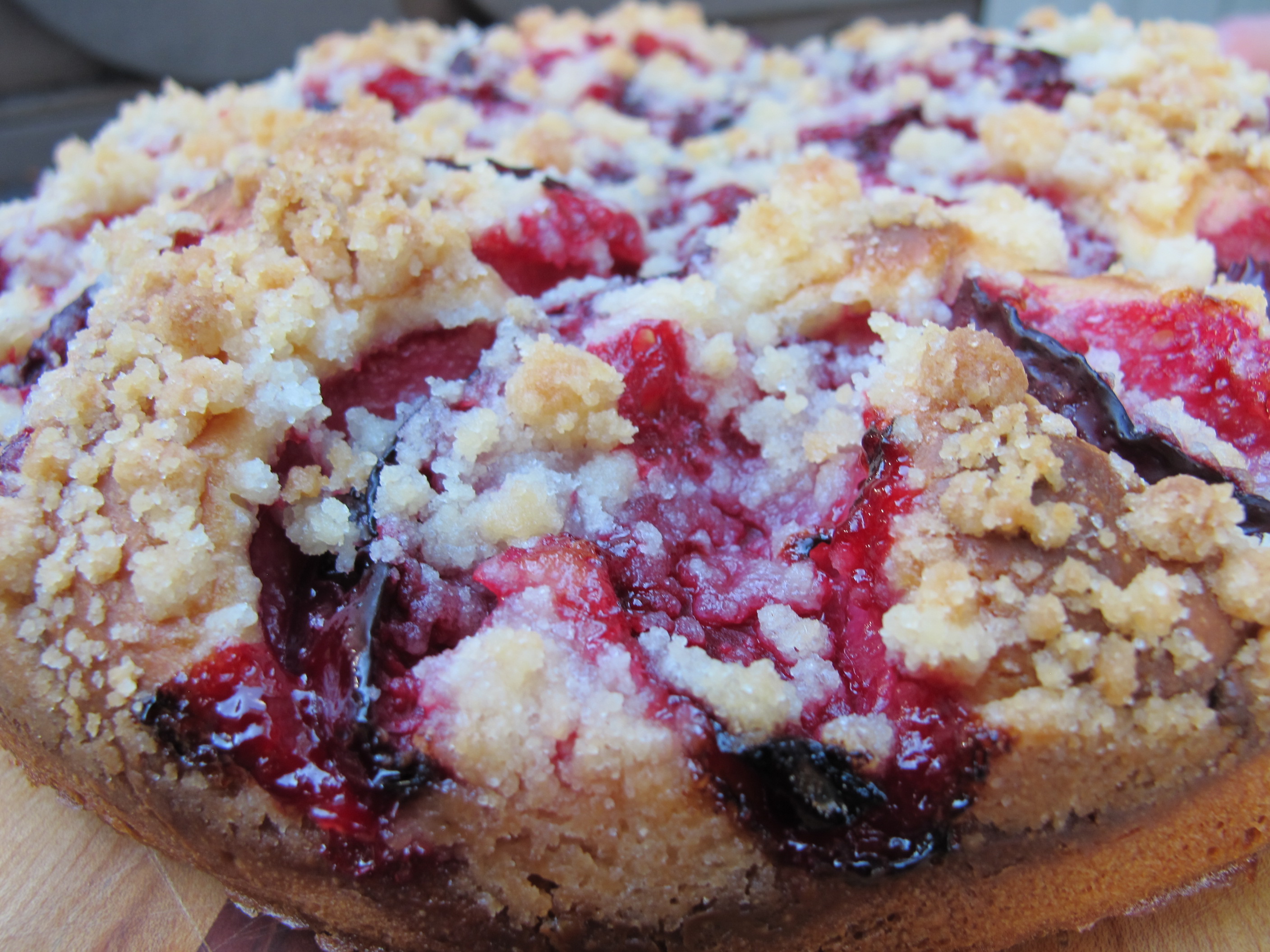 Yeasted Cake with Fresh Fruit by Left Brain Marilyn
This is derived from a German recipe for Pflaumebrotkuchen which means "plum bread cake". It's delicious with all manner of fruit such as plums, apricots, peaches and apples. The original had the fruit brushed with thick warm jam as it came from the oven, however we much prefer the streusel.
The cake is mildly sweet, however if the fruit isn't as sweet as it could be (usually not the local produce), use a bit more streusel. Don't be tempted to skip step one, scalding the milk. This heat, much higher than that used in Pasteurization, deactivates the whey protein that would interfere with the gluten formation necessary in yeasted baking.
Cake:
2/3 cup (150mL) milk
1 tbsp (14g) cold butter
1 3/4 cups (224g) all-purpose flour
1/3 cup (66g) sugar
1/2 tsp (9g) salt
1 tsp (3g) instant or bread machine yeast
1 egg yolk
1/2 tsp (2mL) pure vanilla extract
5-6 pieces of medium fruit (see note)
Streusel:
When fruit is ripe:
1/3 cup (42g) all-purpose flour
1/3 cup (66g) granulated sugar
2 tbsp (28g) melted butter
When fruit is less sweet:
1/2 cup (64g) all-purpose flour
1/2 cup (100g) granulated sugar
3 tbsp (42g) melted butter
1 In a glass measure, scald milk for 1- to 1 1/2- minutes in the microwave or until very hot, but not boiling. Add cold butter; let sit at room temperature for at least a half hour until still warm but no longer hot. [Hint: To hasten cooling, put a couple of inches of cold tap water in a bowl; set this hot measure into the water.]
Meanwhile, stir flour with sugar, salt and instant yeast.
When milk is ready, use a fork to mix in yolk and vanilla. Turn into flour. Beat with an electric mixer, or vigorously by hand, until a somewhat-wet sticky dough forms. Cover and let rise for 30-minutes. [Dough will not rise as much due to somewhat abundant sugar.]
Make streusel by stirring flour with sugar; mix in butter until crumbly. Peel, if needed, and prepare fruit by cutting fruit into wedges about 1/2- to 3/4- inch at their thickest. See tip below.
When dough is ready, line a jelly roll pan with parchment or foil coated with non-stick spray. Spread dough out in pan, letting rest a few minutes between attempts to evenly smooth in pan so gluten relaxes, allowing even thickness.
Arrange fruit slices close together on dough. Cover with plastic wrap; let rise for 2-hours. Then scatter with streusel.
Preheat oven to 350F. Bake in centre of oven for 30 to 35 minutes or until edges are golden brown. Cool on a rack.
Makes 6-8 servings
Fruit: Use about a pound (456g). I have tried this with two kinds of plums, apples, apricots and peaches – and liked them all. However don't use a crisp apple, but a softer one such as a MacIntosh. Apples and peaches need to be peeled and tossed with a tablespoon of lime or lemon juice to keep them from browning during the rising.