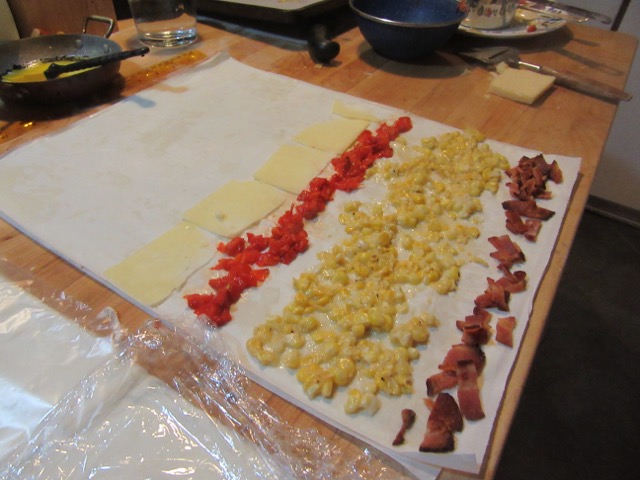 Festive Pinwheels By Right Brain Joanna
This is a pretty little appetizer. If the contents of the pinwheel aren't in your pantry try using olives, sundried tomatoes and different cheeses. The process involves making rolls, which can be stored fresh for a day or frozen. Cut just before baking.
There will be left over pastry, wrap well and save it for another project after the holiday dust settles and everyone has gone home.
Preheat oven to 375F (180C)
Makes 4 rolls, about 80 individual pinwheels
16 oz/ 454 g pkg phyllo pastry, thawed
14oz (398ml) creamed corn
2 pimientos (roasted red peppers), finely diced
8 oz (250 g) bacon, cooked and crumbled
4 oz (125 g) sliced cheddar cheese
4 oz (125 g) unsalted butter, melted
If you want, use 3/4 cup (175 g) fresh or canned corn; puree about a third of it to let out some of the juices.
Prep all the ingredients, and lay them around the edge of your work station.
Open the phyllo and place it to the left of your station, short side in the front.
You will use three sheets per roll. Taking the first sheet, with the short side in front of you; butter the pastry. Repeat with the second sheet and lay the third on the top. Keep remaining sheets covered with parchment or a tea towel until needed.
Using the bottom half of the stacked phyllo, make strips using a quarter each of bacon, corn, pimentos, and sliced cheese. Brush the remaining half with butter; roll up nice and tight. Brush with butter, cover and set aside. Repeat.
Wrapped rolls can be frozen or baked fresh by cutting them thinly, about 1/2-inch (1-cm). There will be about 18-20 pieces per roll. If you thaw previously frozen rolls paint them with a bit more butter before slicing.
Bake pinwheels for 10 to 14 minutes or until golden.