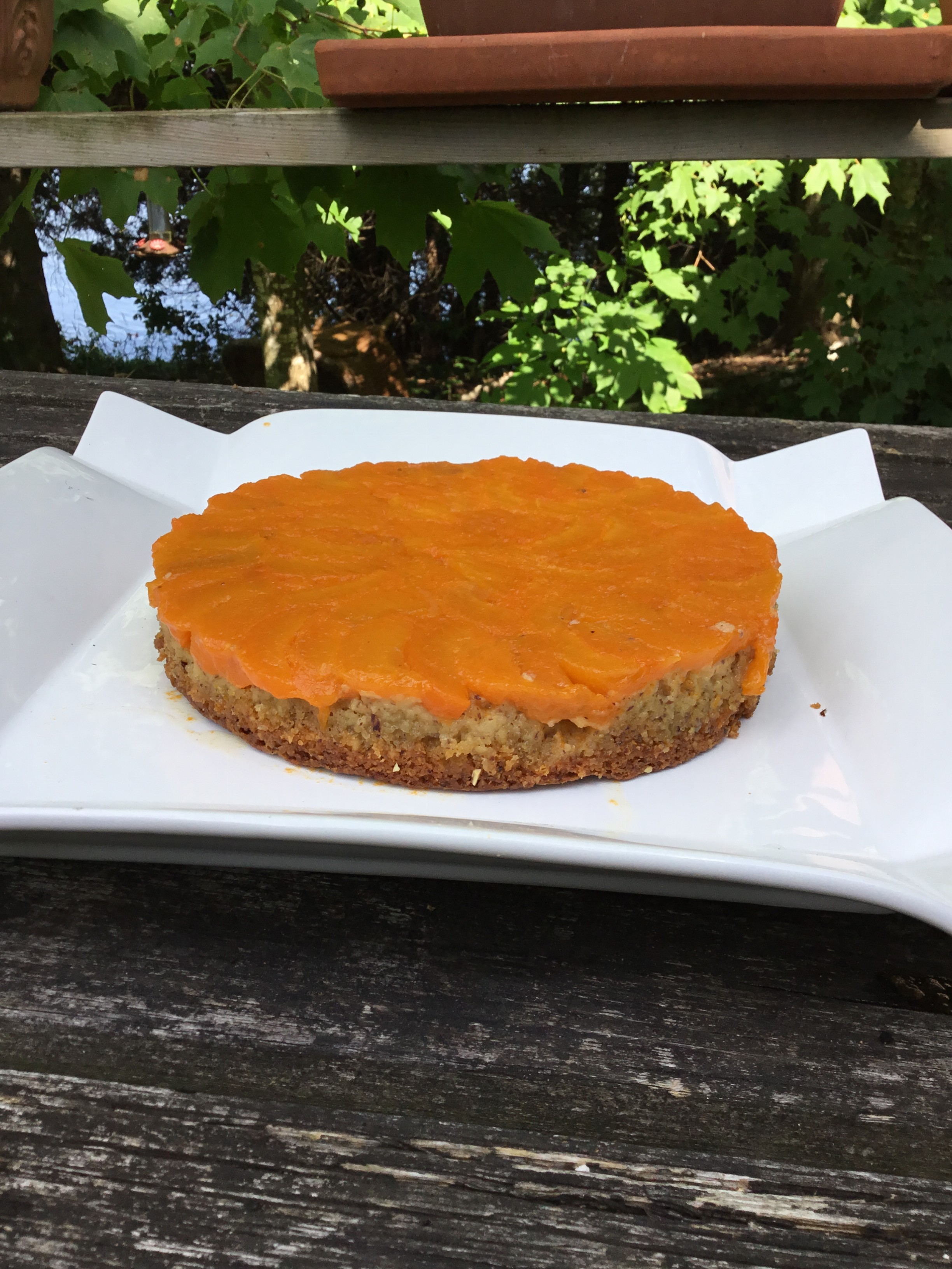 Apricot and Orange Cake by Right Brain Joanna
I have had this recipe lurking in in my homemade recipe book for decades and somehow never actually made it. Well, time is change. I've worked it with apricots, strawberries and rhubarb and it's hard to keep some leftover for next day's breakfast. Give it a try with any seasonal fruit. Lip smacking good.
Baking time 50 miutes-350F/175C for 25 minutes and
at 325F/160C for the second 25-35 minutes.
The recipe is successful in a 9'' pan and cooks in 50 minutes.
Ingredients
14 fresh apricots, blanched, peeled and sliced (or 12oz/325g soft fruit of choice)
1 1/4c/200g granulated sugar, divided
5oz/150g soft butter
2 eggs, lightly beaten
2/3c/70g self raising flour (recipe at end)
1/2tsp baking powder
1 1/8c/100g ground hazelnuts (filberts)
Grated zest of a well scrubbed orange, organic if possible
1/8cup/30ml orange juice
1/3c/25g flaked almonds
Method
Butter an 8" cake tin and line the base with parchment. You can use a spring form pan but put another pan underneath it to catch the juicy drips or line the pan with tin foil.
Fold 3tbsp/50g of sugar into the prepared fruit and leave to rest.
Beat the butter and add the remaining sugar blending together. Add beaten eggs and mix.
Add the zest, orange juice, ground hazel nuts and flour, stirring well.
Place the apricots into the base of the pan and pour the batter overtop. Scatter the flaked almonds over top. If the fruit of choice seems to be too deep, hold some back as thr cake batter needs a good two thirds of the pan to keep it from drowning in the juicy base.
Once baked leave to cool for a few minutes then turn out onto the serving dish.
Serve warm or cooled.
Self Raising Flour
3/4c/175ml all purpose flour
3/4tsp baking powder
1/4 tsp salt
Mix well.
Freeze the rest for later…or chuck the small remainder!