LEFT BRAIN: Bahn Mi Sandwiches
This divine sandwich is the culinary result of French colonialism in Vietnam. Baguette and pâté join "hot, sour, salty, sweet" Asian flavours and fresh herbs. It's your choice to enjoy it very spicy or completely mild.
I personally like it best a couple of hours after being made, making this sandwich perfect make-ahead fare. There are as many versions of this sandwich as there are people making them so feel free to substitute as desired. Traditionally pâté, such as purchased pâté de Campagne, and roasted pork are used.
Makes 6 sandwich sections, each a serving
Pickled vegetables
1 cup (100g) each of julienned carrot and daikon white radish (or substitute ordinary red radishes)
2 tbsp (30 ml) seasoned rice wine vinegar (see tip)
Mayonnaise
1/2 cup (125 ml) mayonnaise (NOT salad dressing!)
Sriracha or sambal oelek
Dash of toasted sesame oil
Hot red or jalapeno pepper, minced (optional)
Sandwich
1 long crusty baguette
1/2 medium English cucumber, sliced thinly on the diagonal
6 oz (170 g) thinly sliced roasted pork or cold cut such as mortadella
Numerous thin slices of terrine or pâté, about 8 oz (225g)
Small handful of fresh coriander leaves (cilantro) and mint
Toss julienned carrot and radish with seasoned rice wine vinegar. When ready to use, drain and toss with minced hot red or green pepper to taste. [The pickled mixture has a strong smell, but tastes delicious!]
Stir mayonnaise with a squirt of sriracha and sesame oil. Taste; add more sriracha for increased fieriness.
Lengthwise cut open a fresh baguette like a hot dog bun, leaving one side attached. Pull out some of the soft bread inside the top half to accommodate the generous fillings. Slather inside, top and bottom, with mayonnaise mixture.
Line bottom with cucumber. Top with pork loin, numerous thin slices of terrine, pickled vegetables and a generous amount of fresh coriander sprigs.
Stab in several places with wooden skewers to hold sandwich fillings firmly. Cut crosswise into lengths to form individual sandwiches.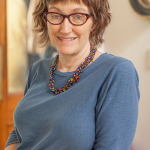 Joanna's comments:
You have met the terrine Marilyn is using from a couple of posts ago. Marilyn's meat loaf could just as easily be used – or a purchased country pâté. The Asian seasoning is fresh and and spicy so if you're not near to a Vietnamese restaurant this is a perfect replacement (#6, or "bun", is our mutual favourite at Saigon Delights here in Kingston) .
RIGHT BRAIN: Pan Bagne
A fantastic picnic sandwich, this is much like my fruit crumble and not easily transferred into weights and measurements. Pan Bagne, or "bathed sandwiches", are made with whatever ingredients you have in your kitchen. Farmers in southern France have been enjoying this fare for centuries.
I am sharing my method for cooking eggplant which will change your tentative eating ventures to licking your lips in anticipation (see Marilyn's comments)!
400F / 200C oven
45 minutes roasting time
Makes 6-8 servings
2 loaves day old ciabatta
1 medium eggplant
4oz/125g salami (or leftover roasted meat)
4oz/125g cheese (cheddar, provolone or whatever you have) sliced
2-3 tomatoes, sliced
2-3 red peppers
1 small head garlic
olive oil
Preparing the components:
Eggplant
In the morning peel and slice the eggplant as thinly as possible.
Lay the pieces on a tea towel and salt generously. Roll up the towel and set aside, letting all the excess moisture be released.
After leaving for a few hours unwrap the eggplant to find thin leathery pieces.
Using a heavy frying pan, heat up with a small bed of olive oil. Once hot add the eggplant as you would for frying potatoes. Brush the tops and keep a watch over the pan after five minutes or so, turning as the pieces brown. Lay the cooked eggplant on paper towel and set aside.
Roasted red peppers and garlic
Turn the oven to 400F/200C
Lay the peppers, washed but whole, on a parchment-lined tray and bake, turning every 15 minutes, for a total of 45 minutes. Leave to cool (some people place peppers in a paper bag for this).
Meantime, while you wait for the peppers to roast, cut off the tips of the garlic, leaving the head whole and drizzling with olive oil and season with thyme or rosemary if you wish. The cooking time is about 22 minutes. Then cool, peel and mash.
Remove skin from peppers and discard along with the seeds.
Assembly
Slice the loaves lengthwise and smear the garlic on the cut surfaces.
Place the ingredients in layers, topping with the tomatoes.
Wrap tightly in plastic and weigh down (where is my terrine brick?) for at least 6 hours, preferably overnight.
Slice nice fat wedges and pass the napkins!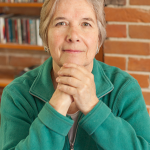 Marilyn's comments:
All the strong flavours deliciously mellowed upon standing – and the eggplant was particularly luscious, a word that I have never used before when referring to eggplant!