LEFT BRAIN: Tart Cherry Pie
Here in Ontario, I buy chilled pails of pitted cherries that have a bit of sugar added (so they arrive swimming in juice) and divide cherries plus juice into freezer bags for out-of-season pies. My home-state of Michigan is famous for it's cherries too!
These cherries are sour when ripe, however their very tartness makes them perfect for a variety of desserts – and savoury sauces with chicken and pork!
As I like a well-filled fruit pie, I use a fair amount of thickening which keeps the cherries cohesive when cut. However if you like the filling to ooze out a bit onto the plate, use the lesser amount of cornstarch. Using the greater amount sugar makes a sweeter pie if that is your preference.
Makes 8 servings
425F oven
6 cups (1.5 L) sour cherries, including juice (defrosted if frozen)
1 – 1 1/4 cups (200-250 g) granulated sugar
1/3 -1/2 cup (43-64 g) cornstarch
1 tsp (5 mL) pure vanilla
Double crust pastry for a deep-dish 9-inch (23-cm) pie
Drain cherries into saucepan. Thoroughly mix sugar with cornstarch; stir into cold juice. Bring to a boil over high heat, stirring constantly. Remove from heat, stir in cherries and vanilla. Cool while making pastry.
Fill pastry with cooled cherries; slash top crust. Bake at 425F (220C) for 15 minutes; then turn down heat to 350F (180C) and continue baking for 30 minutes or until filling bubbles. Cool on a rack.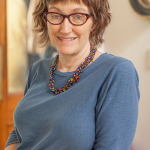 Joanna's comments:
I believe there was a moment of grief at Marilyn's house when her husband saw his breakfast treat of leftover pie walk out the door with Marilyn who brought it to me to taste. Understandable, because it is a great recipe.
RIGHT BRAIN: Tart Cherry Baby Clafoutis
Recipes for clafoutis are as varied as the bakers who make them. Some are almost soupy, delicious and gooey – and traditionally use large sweet cherries, often un-pitted! Here I have made the batter to create a more cake-like treat, easy to serve in individual ramekins.
6 ramekin dishes (or an 8in /20cm baking dish)
325F / 170C oven
12oz / 350g pitted sour cherries, thawed if frozen
Small quantity maple syrup to just cover (or liqueur if preferred)
3 eggs, separated
5 ½ tbpsp / 70 g extra-fine sugar, divided (or briefly buzz granulated sugar in the food processor)
½ cup plus 1tbsp / 70g all purpose flour
2 tsp vanilla extract
2/3 cup /150ml 35% whipping or heavy cream
Pinch of salt
Unsalted butter to grease the pans
Preheat the oven. Set 18 cherries in a small dish and just cover with maple syrup, or liqueur, to soak.
Butter the ramekins and set on a baking tray or pan. Fill the bottom of the ramekins with the remaining cherries.
Whisk the egg yolks with half the sugar until thick and cream coloured; fold in the flour, vanilla, cream and salt to blend.
In a clean bowl whisk the egg whites gradually adding the remaining sugar.
Fold into the batter in two batches ensuring the whites have been incorporated.
Fill the cups to about ¾ of the way up.
Bake for about 20-25 minutes and check for just a bit of crumb clinging to a toothpick.
Gently top with the remaining cherries and any juices and place back in the oven for another 5-8 minutes.
Serve warm, with a little cream or mascarpone if desired.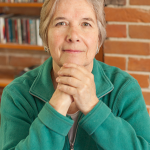 Marilyn's comments:
These cute individual desserts are utterly delicious – and actually easy to make, requiring no out of the ordinary ingredients. I use everyday granulated sugar and make it finer by briefly buzzing in the food processor as Joanna suggests. Once I briefly warmed a two-day leftover clafoutis, and it still tasted like a really special dessert!