LEFT BRAIN: Lentil Dal Soup
Dal soup is this cook's go-to on a busy blustery day as lentils require no soaking and the cooking time is short. It's inspired by the side dish of dal, which is often served with Indian meals and variously spelled dal, dahl and dhal.
It can be mildly spicy, or with hot curry powder or a pinch or two of cayenne, very spicy. The soup is very adaptable to variations, becoming vegetarian with the use of vegetable stock and vegan if oil is also used instead of butter. Got some cold cooked chicken? Shred or dice it to add at the end – or perhaps a few sliced mushrooms or shredded spinach.
Makes 3 to 4 main course servings
1 tbsp (14g) butter
1 medium (70g) onion, diced
1 large (90g) carrot, diced
1 large (60g) stalk celery, diced
1 clove (4g) garlic
2 tsp (4g) curry powder
1/2 tsp (.5g) ground cumin
1 cup (260g) red lentils
4 cups (1L) chicken or vegetable stock or broth
1 tbsp (15 mL) lemon juice
1/2 tsp (1g) salt
Several grindings of black pepper
Garnish with sour cream, or chopped fresh parsley or coriander, or sliced green onion (optional)
Melt butter in a saucepan over medium heat. Add onion, carrot, celery and garlic; cook, stirring occasionally for 5 minutes. Stir in curry and cumin; cook 2 minutes.
Add lentils and stock; bring to a slow boil. Cover and simmer 15 to 20 minutes. Stir in lemon juice, salt and pepper. Taste and adjust seasonings as needed. If too thick, thin with extra stock or water.
Ladle into warm bowls, and garnish as desired. Serve accompanied by warm naan, chapati or pita bread.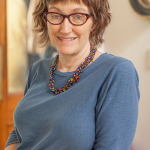 Joanna's comments:
Once my soup-hating elder daughter moved away to school the family started to have soup on a regular basis. It was often a mix up of leftovers. But this dal is a straight-forward, simple, fast and easy dinner needs no added ingredients.
RIGHT BRAIN: Pôtage of Parsnip & Potato
This pôtage (French for soup) is a great antidote for the coldest of winter days. A combination of root vegetables brightened with dill is sure to warm you up and satisfy the heartiest appetite.
About 6 servings.
4 tbsp / 2oz / 56g butter
6 oz / 175g leeks, washed and sliced, pale greens included
3 oz / 90g cooking onions, small rough-cut
1 lb / 454g parsnips, peeled and cut into wheels
2 bay leaves
2 russet potatoes, about 1-1/4 lb/625g, peeled and small rough-cut
About 6 cups /1.5L chicken or vegetable stock
Pepper and salt
1/4 cup / 2g chopped dill (or more to taste)
3/4- 1lb / 340-454g old cheddar, grated
Melt butter in a large pot and add the leeks, onions, parsnips and bay leaves. Reduce the heat and top with a lid sweating for 20 minutes.
Add potatoes and cover with stock. Bring up the heat so soup boils, partially cover and reduce to a simmer. Cook until potatoes are soft.
Remove from heat and allow to cool for a bit.
When the soup is cool enough to handle, rake off a bit of the stock and reserve. Using a blender start puréeing the soup. If the blender starts to resist your efforts, pour in some of the reserved stock to loosen it up. It's possible you may need to add more stock (or water if that's all you've got).
With the last bit of soup in the blender add the dill. Taste and add more dill and salt to taste.
Reheat gently and serve in warmed bowls, topping with a small heap of grated cheese and a small dill frond. Pass extra cheese for people to add more if they desire.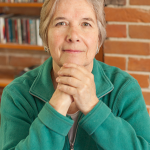 Marilyn's comments:
Just add a loaf of great bread to accompany this hearty soup, and there's dinner! Parsnips are a neglected vegetable, looking like a misshapen carrot and perceived to perhaps be strong tasting like turnip or rutabaga – instead they have a sweet nutty flavour. I like to use half parsnips and half carrots when roasting vegetables in the oven – and so does Joanna.