LEFT BRAIN: Gyros Burgers
Take a break from ordinary burgers with these flavourful and moist patties stuffed into a crispy naan. This juicy burger is, as Joanna said while dining, "scrumptious – despite needing two napkins!"
Greek gyros is an upright cylinder of spiced meat rotating in front of flames or glowing electric bars. As it sizzles and browns, the meat is sliced off into a warm pita. Lacking such equipment, these appetizing burgers are the next best thing – and use everyday ingredients.
Makes 8 burgers
Relish
2-3 large Roma or plum tomatoes
1/2 small English cucumber
1/4 cup (46g) minced sweet onion
1 tbsp (15 mL) red-wine vinegar
2 tbsp (30 mL) olive oil
1/2 tsp (1g) dried leaf oregano
1/4 tsp (1g) salt
Several grindings of black pepper
Burgers
1 1/2 lbs (675 g) lean ground lamb, pork or beef (see tips)
1 egg
1 large garlic clove, minced
2 tbsp (8g) chopped fresh parsley
1 tsp (2g) ground cumin
1 tsp (1g) dried leaf oregano
2 tbsp (25 mL) freshly-squeezed lemon juice
1 tsp (5g) salt
1/2 tsp (2.5g) freshly ground black pepper
1 cup (50g) fresh breadcrumbs
1/2 cup (92g) minced sweet onion
2 tbsp (25 mL) each of butter and olive oil
8 flatbreads such as Greek-style pita or naan
1-2 cups (250 – 500 mL) tzatziki, purchased or homemade (see tips)
Seed and dice tomatoes and cucumber; turn into mixing bowl. Stir in onion. Whisk vinegar with oil, oregano, salt and pepper. Pour over tomato mixture; stir well. Let sit at room temperature, stirring occasionally, for at least 30 minutes to meld flavours. [Or cover and refrigerate for up to a day; stir before serving.]
Mix egg in a large mixing bowl with garlic, parsley, cumin, oregano, lemon juice, salt and pepper. Stir in bread crumbs and onion. Crumble meat over top. Using hands, knead until uniformly mixed. Form mixture into 8 patties about 3/4-inch (3-cm) thick. Cover and refrigerate until ready to barbecue, up to a day.
Preheat barbecue until very hot. Grill the burgers, moving about to get the best sear, for 4 to 5 minutes per side or until done to your liking.
Warm flatbread in oven or toaster oven. For each sandwich, cut burger in half and place in flatbread. Top with a spoonful of relish and tzatziki; fold. Serve with coleslaw or spinach salad; pass remaining relish and tzatziki.
Tips: I like to use a mixture of ground meat, usually lamb mixed with pork or beef. Ground lamb is somewhat fatty so choose lean ground meat.
Tzatziki is simple to make being a simple stir-together. Grate half an English cucumber and squeeze shreds dry. Stir with 2 cups (500 mL) yoghurt or sour cream, 2 tbsp (30 mL) olive oil, 2 tbsp (8 g) each of fresh dill & mint and 1/4 tsp (1 g) salt. Don't have the fresh herbs? Stir in a couple pinches of the dried variety. Stir any leftover with a dollop of mayonnaise to moisten egg, tuna, chicken or potato salad.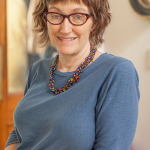 Joanna's comments:
Burgers do not play a huge role on my cottage menu, but I'd serve these in a heartbeat. I would form each burger into a long patty for (possibly!) less messy consumption.
RIGHT BRAIN: Peppered Lamb Meatballs
This is from Penelope Casas, one of my all time favourite chefs. There are some amendments here. If you have an intolerance for large amounts of pepper I urge you to try this recipe with less than the 2 tablespoons – yes you read correctly! We worked up to that amount after a few trials with less than that in Casas' original recipe, and it was totally worth it. My other change is increasing the amount of sauce to go with mashed potatoes.
Serves 6
300F/ 150C
Meatballs
2lb /1kg ground lamb
2 eggs
2 cloves garlic, mashed
1/4 cup /16g chopped fresh parsley
1 1/2 tsp / 7g salt
2 tsp to 2 tbsp / 5 – 14g coarsely ground black pepper
1 cup / 50g coarse fresh breadcrumbs soaked in 1/4 cup / 60ml red wine
Sauce
2-3 tsp / 10- 15 ml olive oil
2 medium onions or 1/2 Spanish onion
1/4 cup / 60 ml brandy, preferably Spanish or Cognac
6 tbsp /90 ml tomato sauce (not paste)
2 cups / 500ml beef or lamb stock
Combine the ingredients for meatballs. Taste for salt by frying a small portion. Leave to meld the flavours if you can; then make meatballs, each around 1-inch / 2.5 cm.
Sauté meatballs in a large-based casserole; then add the onions to sauté until wilted.
Standing well back, pour in the brandy and ignite. (For a light show, turn off the lights!)
Stir until the flames die down add the tomato sauce and stock. Salt to taste but be sparing. Cover and bake in a 300F/150C oven for about 30-35 minutes. Great with mashed potatoes and bright, lightly cooked vegetables.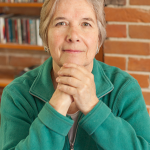 Marilyn's comments:
I love meatballs when tender and juicy like these, but my liking is for the lesser amount of pepper. However one should at least get a mild peppery kick!