LEFT BRAIN: Fresh Cornbread
Here's fine corn flavour with added moistness from using pureed kernels as well as cornmeal! The kernels can be cut from a leftover cooked cob or poured from a freezer bag.
The cornbread has a faint sweetness with the lower amount of sugar – just perfect to accompany chili and other savouries. Use the greater amount of sugar for more pronounced sweetness. Split and toasted squares with a drizzle of honey are lovely for breakfast so consider making the double batch (see tip) as cornbread freezes well.
400F (200C)
Makes: 9 large or 16 small squares
1 1/4 cups (310 mL) buttermilk (or add 1 tbsp/15 mL white vinegar to "sour" ordinary milk, if you like)
1 egg
1 cup (120g) fine or coarse cornmeal
1 cup (170g) fresh corn kernels (not popcorn!)
1/4 -1/3 cup (50-75g) granulated sugar
1 1/2 cups (188g) all-purpose flour
2 tsp (8g) baking powder
1/2 tsp (2.4g) baking soda
1/2 tsp (3g) salt
1/3 cup (75 mL) melted butter
In a blender, whirl buttermilk, egg, cornmeal, corn kernels and sugar until almost smooth. Let soak while proceeding.
Line an 8-inch (20-cm) square baking pan with foil; coat with non-stick spray or lightly grease. Preheat oven to 400F (200C).
Stir flour with baking powder, baking soda and salt. Make a well; pour in wet mixture. Stir slightly, just wetting some of flour mixture. Then pour in melted butter mixture; stir until all the flour mixture is moistened. Batter is thick and not perfectly smooth. Turn into prepared pan; level top.
Bake in centre of oven for 25-30 minutes or until lightly browned. Cool on a cooling rack for 5 minutes; then lift out of pan using foil edges. Loosen sides and peel off foil; finish cooling cornbread on rack. Serve warm, or at room temperature, cut into squares.
Tip: A double recipe fits into a 9- x 13-inch (23- x 33-cm) baking pan and needs 35 to 40 minutes in the oven. Cornbread is best on day it is made. Or freeze airtight in a heavy freezer bag for up to a month; warm before serving.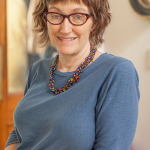 Joanna's comments:
Marilyn's delicious crumbly cornbread would be great to serve up with my chowder. We had some day-old so we used it to made toasted bacon and tomato sandwiches – finger lickin' good.
RIGHT BRAIN: Corn Chowder with Shrimp
As summer's harvest progresses towards corn and tomatoes it seemed a good idea to use up my last year's stash of freezer corn in this outstanding chowder. Now I am ready to serve up it again with freshly cut kernels as the cooler August nights arrive. [See tip for freezing corn below.]
As soon as a corncob is picked the sugars within begin to turn into carbohydrates so try to buy the corn the day you plan to eat it. The corn will be so moist that you can throw the whole cob onto your barbeque or in a really hot oven. Leaves and silk pull away easily once cooked. It takes about 12-15 minutes, turning to get a light toasting over all.
Makes 4 large servings
1 lb (454g) uncooked, shell-on medium shrimp (keep the shells for stock)
4 strips of bacon
1 medium onion, diced
1 sweet red pepper diced (or a pimiento)
2 cloves of garlic, minced
3 cups (750 mL) chicken or vegetable stock
1 large russet potato, peeled and smallish diced
4-5 plum tomatoes, diced
3-4 cobs-worth cooked corn, approximately 3 cups (510g)
½ to 1 small hot pepper, minced (red or jalapeno)
Dash (1-2 tbsp/15-30 mL) dry sherry or brandy
1 cup (250 mL) 35% cream
Handful or two of tortilla chips for garnish
Thaw and peel shrimp. Barely cover the shells with water and simmer for about 20 minutes to create stock. Measure out 1 cup (250 mL) of shrimp stock; set aside. Freeze or discard remaining shrimp stock.
Cook bacon until crisp. Crumble and set aside.
Pouring off any excess bacon fat, sauté onion and red pepper adding the garlic after a few minutes.
Add chicken and shrimp stocks, potatoes and tomatoes; cook until the potatoes are nearly done, about 15 minutes. Turn down the heat to low and add hot pepper.
In a blender or food processor, chug half of the corn with a third of the still raw shrimp into small pieces; stir into soup.
Then add the sherry, remaining corn and crumbled bacon; let simmer a few minutes to let the alcohol burn off. [If making ahead this is a good place to stop. Refrigerate up to a day until ready to heat up again.]
Just before serving, add cream; bring up heat slightly to thoroughly blend all the flavours until chowder is hot. Now toss in the remainder of peeled, raw shrimp. Cook until they just begin to curl and chowder is again hot. Dish up chowder using tortilla chips for garnish.
Tip: At my house we always buy a dozen ears at a go, even if it's just the two of us. Right after supper we shuck the uneaten corn, cut off the kernels and bag it for the freezer, ready for a fine addition to winter meals such as soups and Shepherd's Pie.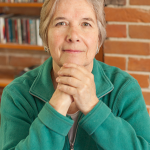 Marilyn's comments:
As a person with ancestral roots in New England, I am particular about chowder. It should be full of flavour, chuck-full of ingredients, and not thickened with flour, which makes a gravy-like glop. Joanna's is perfect and so delicious that it is now my go to entertaining starter, lunch or light supper. I often use a pinch of cayenne instead of the minced fresh hot peppers.