LEFT BRAIN: Berlin Air Cake
Some time ago I adapted a German cake recipe called "Berliner Luft Kuchen" for an issue of Ontario's LCBO's Food & Drink magazine – and being especially beautiful, the cake made the cover! It is a spectacular cake perfect for a large celebration (Google "LCBO recipe 4667" for the original 3-layer cake)
I wanted something smaller, not to mention easier, so "cake mix" sprang to mind. Two stores later I found a mix which had few additives and also used butter, not oil, namely President's Choice Madagascar Bourbon Vanilla Cake Mix. In the USA look for European Gourmet Vanilla Organic Cake Mix (available at Whole Foods).
I baked both layers, but only used one for the air cake thus having a fully baked plain cake layer, stashed in my freezer, to make a Boston cream pie for another occasion.
Oetker's Whipped Cream Stabilizer or "Whip It" is widely available in Canada and seems to be sold at Wal-Mart in the USA.
Two cake layers:
1 extra egg
2 tbsp (25 g) granulated sugar
Pinch cream of tartar
Two-layer cake mix
1/2 cup (15-20 g) sliced or slivered almonds
1-2 tbsp (8-16 g) icing sugar
Separate egg, placing white, sugar and cream of tartar into a small bowl. Whip white at high speed until somewhat stiffly whipped; set aside.
Add extra egg yolk to the eggs required by the cake mix.
Butter two 8-inch (20-cm) or 9-inch (23-inch) pans and line with parchment paper. Used the same beaters (don't bother washing) to make the cake batter according to package directions.
After batter has been smoothed in pans, spread whipped white over one cake layer and sprinkle with almonds. Leave the other layer plain.
With my mix, the unadorned plain layer in an 8-inch pan took 35 to 38 minutes at 325F and the air cake layer coated with whipped egg white and nuts, took 40 to 43 minutes due to the slight insulting quality of whipped egg whites. Cool on a rack for 10 to 15 minutes.
Loosen edges with a knife; sift some icing sugar over tops of cakes. Place a clean tea towel over the top and another rack. Invert cake, peel off parchment and again invert so the cake is right side up, removing towel to finish cooling. Then using a serrated knife cut each cake horizontally forming two layers. Cover and freeze plain layer for another time.
Air Cake Filling & Assembly
Makes 6 to 8 servings
1/2 cup (125 mL) whipping (heavy) cream
1 tbsp granulated sugar
1/2 (10g) pkg Oetker "Whip It", about 1 1/2 tsp (5g)
2 medium peaches or nectarines, diced (see tip)
Combine cream with granulated sugar and Whip It. Beat until thick.
Gently remove top from almond topped-layer. Spread bottom layer with cream; dot with fruit. Replace top; cover loosely with plastic wrap and refrigerate for a couple of hours or up to a day.
When ready to serve, sift more icing sugar over top. For easy slicing, stab a long bamboo skewer in centre of cake down through the layers. Use a chef's knife to cut into wedges.
Tip: If using peaches or nectarines, toss diced fruit in a splash of orange juice to stop any browning. Drain fruit before using in cake.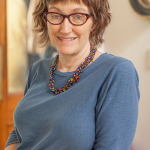 Joanna's comments:
My husband requests the original 3-layer cake every year for his birthday!
RIGHT BRAIN: Barbecued Peaches
If you want dessert, but don't fancy an afternoon in the kitchen with a hot oven making Marilyn's cake, why not put the BBQ to work while enjoying the main course?
Serves 4
4 medium peaches, peeled and quartered
3 tbsp (36g) brown sugar or 1/4 cup (60 mL) pure maple syrup
2 tsp freshly-grated ginger or 1/4 tsp dried
1/3 cup (80g) crumbled ginger snaps
Creamy topping of your preference: sour cream, whipping cream, yoghurt, ice cream, or maybe even mascarpone
Mix peaches with sugar and ginger and tightly wrap with heavy-duty aluminum foil
Grill over medium heat for about 15 minutes.
Serve with cream and crumble the ginger snaps over the top.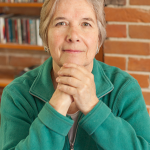 Marilyn's comments:
I use maple syrup for the sweetening and serve the luscious warm peaches as a sundae topping over my homemade ice cream. Ginger snaps or any plain butter cookie crumbs add satisfying crunch!