LEFT BRAIN: Meat Loaf
The appetizing smells while this is baking evoke my memories of childhood. Of course, potatoes and cooked vegetables must complete the retro meal. However what is different about this recipe is using rolled oats instead of bread crumbs which makes the loaf juicy instead of dry. Sliced cold meat loaf is terrific as a hearty sandwich filling with mayonnaise and lettuce.
Bake in 350F / 180C oven for 1 hour
Serves 6
1/2 cup (45g) quick cooking oats
1/2 cup (125 mL) stock or water
1 egg
1 tbsp (15 mL) tomato paste or thick sauce
1 onion, minced about 1/2 cup (75g)
1 large garlic clove, minced
1 tbsp (1.5g ) finely-chopped fresh parsley
1 1/2 tsp (7 mL) Worcestershire sauce (Lea & Perrins, please!)
3/4 tsp (4.5g ) salt
Generous pinch each of freshly ground black pepper and dry mustard
1 lb (454g) lean or extra-lean ground beef or beef 'n' pork mixture
1/2-1 cup (125-250 mL) ketchup or non-smoky barbecue sauce
Line a small baking sheet or loaf pan with foil; oil or coat with cooking spray. Preheat oven to 350F (180 C).
In a large mixing bowl, combine oats, stock, egg, tomato paste, onion, garlic, parsley, Worcestershire, salt, pepper and mustard. Using your hand, mush this mixture together; then crumble in beef. Using both hands, knead mixture until uniform in texture.
Form a high long meatloaf on prepared sheet or oan. Make a well about 1-inch (2.5 cm) deep in the centre of the loaf, running the length. Spoon some ketchup into well, filling it and then smear some down the sides a bit. Bake in centre of preheated oven for 1 hour.
Slice meatloaf into thick 1-inch (2.5 cm) slices and serve with additional ketchup for individuals to add to taste.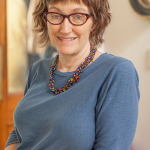 Joanna's comments:
Traditional or not, a meatloaf is a satisfying meal. In the summer, pass up the cold cuts at the deli and use cold meatloaf for a great sandwich filling – and one where you know exactly all of the delicious ingredients.
RIGHT BRAIN: Pork & Veal Terrine with Cherries & Pistachios
Terrines are named after the earthenware dishes in which they are traditionally made. While seemingly 'special', terrines are really up-market meatloaves with layers that distinguish them from pâtés. Terrines seem old fashioned, but they are never out of style and the results are sensational. This terrine needs a two-litre (two-quart) dish. If you don't have one all that's needed is a loaf pan lined with aluminum foil.
This terrine has been modernized for a lighter result, but has great components. Once the pan is prepped and the ingredients are in place it is as easy as a meatloaf! That is, not withstanding the weighing down once cool from the oven – and the overnight wait before jumping in for the first taste. Great for parties as it demands making ahead, and freezes beautifully.
350F/180C for 2 hours in a water bath
Makes one terrine, a generous 2lb/ 900g
10-12 slices prosciutto or speck
1 1/2 tsp /7 mL olive oil
1/2 cup /75g finely-chopped onion
1 large garlic clove, minced
1 tbsp /1.5g fresh thyme leaves, stripped from the stem. About 8-10 stalks
3 tbsp /4.5g chopped fresh parsley
12 oz /340g lean ground pork
12 oz /340g lean ground veal
1 egg
1/2 cup /25g fresh breadcrumbs
3/4 tsp/ 4.5g salt
1/2 tsp /1g freshly ground black pepper
generous 1/2 cup /50-60g shelled pistachio nuts, loose skins rubbed off
generous 1/2 cup /70-80g sweetened and dried sour cherries or cranberries
1 skinless boneless chicken breast, about 5 oz/142 g, sliced lengthwise
Preheat the oven to 350F (180°C). Line terrine or a 9- x 5-inch (23- x 13-cm – and holds approximately 2L) loaf pan with aluminum foil. (and see TIPS, below)
Using slices of prosciutto, line the pan with about 3 slices down each side and 2 slices at each end making sure they meet in the middle of the base and hang over the rim all around the pan. These ends will eventually cover the filling. Another piece maybe needed to cover the base so no filling is touching the foil.
Heat oil in a small frying pan over medium-low heat. Sauté onion and garlic for 3 to 4 minutes until softened; remove from heat, stir in thyme. Cool. Then combine with pork, veal, egg, breadcrumbs, salt and pepper in a bowl; mix well, preferably using your hands. Then mix nuts into meat mixture along with cherries. Taste the meat mixture by cooking a small piece to see if it is well seasoned.
Remove tenderloin from chicken, cutting in half lengthwise. Cut remaining breast into 6 to 8 lengthwise strips.
Spread about a third of meat mixture evenly in pan. Slightly in from long sides of pan, arrange three or four chicken strips in evenly spaced rows lengthwise over top; cobble together short strips as needed to stretch almost the whole length. Gently push down into bottom layer until half submerged. Top with another third of meat mixture; arrange and press in remaining chicken strips. Lastly spread remaining meat mixture over top.
Place 1-2 pieces of prosciutto on top of the filling, then fold the end pieces over top. Bring up the sides overlapping attractively. Cover with foil; place in a deep pan. If you have one, insert meat thermometer in centre. To be safe, place the terrine in the large pan and slide it into the oven, pouring boiling water around it to about half way up the sides of the terrine or loaf pan.
Bake for 2 hours or until temperature on meat thermometer reads 160F (71C); or use an instant read thermometer. When cooked the top of the terrine feels firm.
Without unwrapping, remove loaf pan from water. Cool on a rack for 30 minutes. Place terrine on a tray; top with a piece of cardboard cut to fit snuggly into the top edge of the pan. Weigh down using cans such as tomatoes or a brick. Refrigerate overnight.
Use foil to help lift loaf from pan. Peel off foil; gently scrape off excess rendered fat and gelled juices. There is the fruit of your work. A beautiful terrine landscape of the meats, nuts and glistening cherries make it all worthwhile. If there is any left over, it freezes nicely for a month or so.
TIPS: Marilyn has a hint for lining a pan with aluminum foil. Turn pan upside down and smooth the foil, with nice creases at the ends, just like wrapping a box. Remove and the foil will now fit inside the pan without wrinkles or tears. Thanks Marilyn.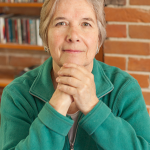 Marilyn's comments:
I make this every time I head into a busy time of entertainment as it has so many uses – and awaits an occasion in the freezer. For instance, small slices on a slice of baguette or a crostini are terrific ors d'oeuvre. Place slices into a crusty baguette roll to turn into Vietnamese submarine sandwiches called ban mi, or garnish a luncheon green salad with a couple of slices.