LEFT BRAIN: Strawberry Rhubarb Pie
My friend and colleague from Saskatchewan called rhubarb "pie plant". She and her mother and sisters would make dozens of fruit pies all summer to freeze unbaked for winter desserts. I caught the bug from Trudy and so freeze a pie or two now and again for a quick, yet special dessert at another time.
Minute tapioca makes a fine thickener for pies where it can be mixed in dry with the sugar. However don't use it for cooked fillings where there is stirring, as tapioca then becomes stringy.
Makes 8 servings
425F (220C) reduced to 325F (160C)
2 cups (400g) granulated sugar
1/4 cup (40g) minute tapioca
3 cups (420g) halved strawberries
3 cups (420g) sliced rhubarb
2 single pastry crusts for 9 or 10-inch (23 or 25-cm) deep-dish pie plate
Stir sugar with tapioca; toss with fruit and let stand while rolling out pastry.
Roll out and line pie plate with one crust of pastry. Roll out second crust to use for the top.
Add fruit mixture to lined pie plate; top with second pastry round. Seal and flute the edges well; make a small slash in centre of top.
To bake immediately, preheat oven to 425F. Place pie in centre of oven to bake for 10 minutes. Then without opening oven door, reduce heat to 325F. Continue to bake for 1 hour or until the juices are slowly bubbling out and clear. Cool on a rack.
If not baking right away, wrap well and freeze. When ready to bake pie, preheat oven to 425F. Unwrap still-frozen pie; bake in centre of oven for 10 minutes. Then without opening oven door, reduce heat to 325F. Continue to bake for 1 hour and 15 to 30 minutes or until the juices are slowly bubbling out and clear. Cool on a rack.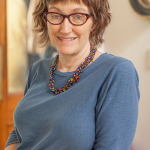 Joanna's comments:
You might think an unbaked fruit pie keeps a low profile in the freezer, but think again! The flurry of summer entertaining dinners will make short work of it so better make two while you're at it, as the mess is the same. As rhubarb season comes to a close, raid the freezer section of your local grocery store to recreate this summer lovely pie.
RIGHT BRAIN: Quick & Delicious Rhubarb Crumble
I have to admit that crumbles are produced whenever guests are coming and I have a time constraint. Don't tell Marilyn but this is the first time the measurements have ever been itemized. Top with your preference of ice cream, whipped cream, crème fraîche, or as in this version, a small dollop of mascarpone cheese.
350F/180C
Fruit
3 cups / 420 g mixed fruit (here 1 cup/140 g chopped rhubarb and 2 cups/280 g strawberries)
½ tablespoon freshly grated ginger (1/2 tsp/.5 g dried)
Generous grating of black pepper
Crumbles
1/4 cup /2 oz/56 g salted butter, melted
1/4 cup /50 g packed brown sugar
About 2 cups /180 g rolled oats
Arrange the cut up fruit in an 8-inch (20-cm) square, or small casserole.
Grate ginger over the fruit along with pepper and stir to mix.
Mix the brown sugar into the butter, stirring until melded. Start adding oats until all the oats are glistening. Keep adding a little at a time, and stop as soon as it begins to break up into drier pieces.
Cover the fruit, without packing down and bake at 350F/180C for 30-40 minutes.
I recently made one of these with a stash of frozen wild blueberries and all the unloved apples in the fridge. Cinnamon and lemon juice are the perfect foil for that delicious concoction.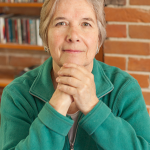 Marilyn's comments:
I enjoy crumble for breakfast as well as dessert! Being raised in the United States, I'd like this a bit sweeter (and blander) so I mix two tablespoons (25 g) of granulated sugar into the fruit – and skip the black pepper. If you only have unsalted butter, like me, add a generous pinch of salt to the crumbles.