LEFT BRAIN: Stuffed Tomatoes with Two Cheeses
These striking tomatoes are substantial enough to be an entrée when served on pasta (see tip) as well as a lovely side dish for a special dinner. An added bonus is that they are vegetarian.
Serves 4 to 6 as entrée or 8 to 10 as side dish
Preheat 425F / 200C oven for 20 minutes
8 large or 10 medium firm-but-ripe tomatoes
3 tbsp (5g / .2 oz) chopped fresh basil, divided
227g (8 oz) bag fresh spinach, loosened about 16 cups
398 mL (14.5 oz) can artichoke hearts or 6 frozen
1 cup (130g / 4 oz) ricotta cheese
1 large clove garlic, minced
1/2 tsp (2g) each of salt and freshly ground black pepper
Several gratings of nutmeg
1 1/2 cups (180g / 6 oz) freshly-grated Parmesan cheese
Preheat oven to 425F (210C). Cut top off tomatoes; finely dice tomato flesh left around core, discarding core. Scoop out tomato interior leaving just a shell. Turn into a sieve over the baking dish to capture juices. Chop seeded tomato interiors; discard seeds.
Combine diced tomato tops, juice and chopped interiors in bottom of an 8 x 8 (2L) or other baking dish capable of holding tomatoes without crowding. Set aside.
Wash spinach; pile into glass bowl and cover bowl with plastic wrap, venting one side. Microwave for 60 to 90 seconds or until wilted. Remove wrap; cool spinach until able to handle. Then squeeze handfuls dry over the sink; chop coarsely.
Coarsely chop well-drained artichokes (I also give each a small squeeze over the sink to get more moisture out) and add to spinach; toss to combine.
Stir ricotta with 1 cup Parmesan, basil, garlic, salt and pepper. Stir in spinach mixture.
Stuff the tomatoes with this vegetable mixture. Press remaining Parmesan into tops; place in dish. [Tomatoes hold, covered and refrigerated for several hours.]
Bake 30 minutes in centre of oven or until cheese is golden and tomatoes hot to the touch. [Add extra minutes for chilled stuffed tomatoes.] For an entrée, cook pasta, drain and divide among plates; top with tomatoes and some of the sauce from the bottom of the dish.
Tips: Allow 2 ounces (56g) of dry pasta, cooked, and 1 to 2 stuffed tomatoes per person for an entrée. Cook the pasta al dente according to package directions.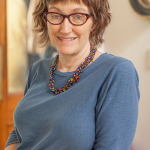 Joanna's comments:
Marilyn served this to me at lunch, commenting that frozen artichokes are hard to find so she used canned. I might be inclined to use the marinated artichokes. Drain and leave the seasoning in place.
RIGHT BRAIN: Jeweled Spinach
This is a quickly prepared side dish especially if, like me, you snatch up the last few pieces of breakfast bacon and stash them in the freezer. Caesar salad often benefits from my horde, but here is another use.
Serves 3-4 people
3 shallots, fine dice
A drizzle of olive oil
11oz / 330g pack of baby spinach (1lb/454 g, bunched)
2 slices of cooked bacon, diced
2 oz / 60g feta cheese
1/6 preserved lemon peel (see below) OR 6 black olives, pitted
In a large saucepan drizzle the oil and sauté the shallots until translucent.
Tumble in the spinach, covering to wilt until about half done.
Add the feta, bacon and lemon peel and stir until fully cooked. Grate some black pepper over top and serve.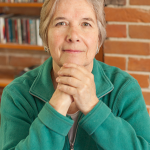 Marilyn's comments:
Joanna may see this as a side dish however I see an easy entrée for two bursting with interesting flavours – and healthy as well. I serve this for my husband and I with some crusty bread and a glass of wine.
Preserved Lemons
When you find organic lemons, it's time to preserve several as this Moroccan flavour enhancer is so versatile. I make multiple sautéed vegetable dishes using some of the lemon peel pulled away from the salty flesh and diced up which adds amazing flavour to the result. We have even had it in a smoked salmon soufflé. I am now launching into using the salty lemon flesh to make marinades for summer barbequing. A little goes a long way. Sky's the limit, so use your imagination, and it's easy to prepare.
12 organic lemons
1/4-1/2 cup / 70-140g sea salt
Wash the lemons and cut 5 or 6 of them across the equator. (If you do a lot of baking you should zest before cutting and package up the zest separately for the freezer.)
Squeeze the lemons and add the juice to a jar with a snug lid, filling about half full. You will have to judge this according to the jar, you may need another lemon squeezed.
Cut the remaining lemons into 6 lengthwise wedges leaving attached at the bottom. If you haven't zested the lemons before squeezing, add the hollow shells as well. (Everything but the squeak is my motto.)
If the jar is too full pour off the excess juice to use for something else. Add the salt, put on the lid and give it a good shake.
Leave on the kitchen counter for a week, shaking periodically.
Opening the lid, seal with a layer of olive oil and store in the fridge. These will last you a long time and the olive oil will rise to the top after you pull some out keeping them sealed and tasty. Now start experimenting!
Marilyn's comments: Once you try this Moroccan flavouring, you will be hooked. However one caveat, don't try to use bottled lemon juice as the preservatives prevent fermentation – which I learned the hard way!