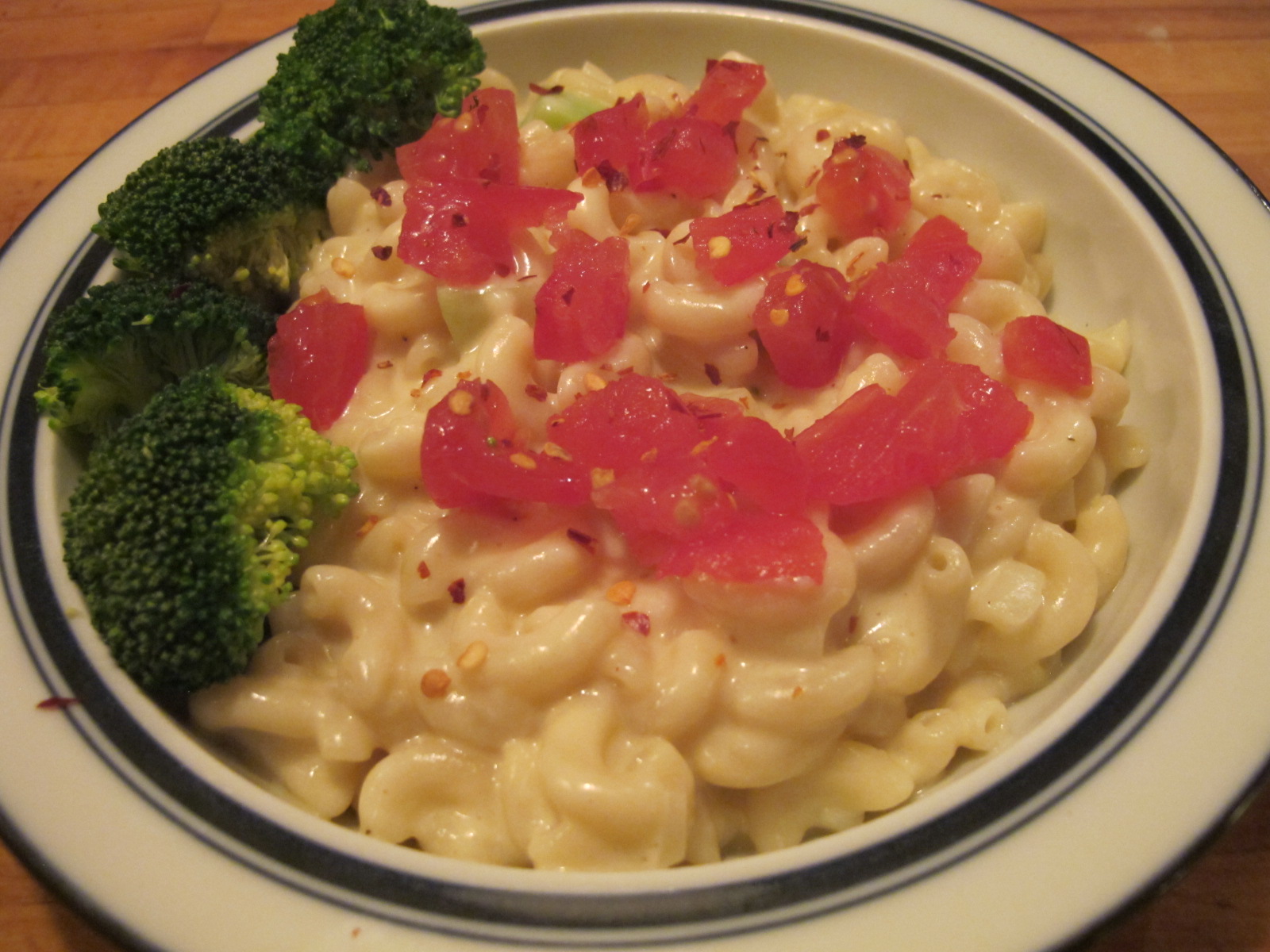 LEFT BRAIN: Mac 'n' Cheese
Use up the bits of mild, medium or old cheddar cheese that are lurking in the refrigerator, but be sure to include some cream cheese, brie (rinds removed), goat cheese, Havarti or even processed "American" cheese for creaminess. I like to make the sauce in the microwave, as it is almost impossible to scorch; however with stirring diligence, stovetop works fine too.
Kid-friendly basic:
340-375g (12-13 oz) macaroni, about 3 cups
170g (6 oz) mixed cheese, cut into small cubes, about 1 1/2 – 2 cups
50g (1 1/2 oz) all-purpose flour, about 1/3 cup
625 mL (2 1/2 cups) milk, preferably whole milk
1 tsp salt
1/4 tsp freshly ground black pepper
Sauce options:
1 bay leaf
1 large sprig fresh thyme or 1/4 tsp dried
1/2 tsp hot chili flakes
Stir-in options:
2-3 green onions, thinly sliced, or about 1/2 cup snipped chives or cooked diced onion
1 stalk broccoli (stem peeled and cubed; florets cut into bite-size pieces), lightly steamed
4-6 large mushrooms, sliced or diced
1 firm-but-ripe tomato, or 3-4 soft sun-dried tomatoes, diced
Cook pasta in boiling salted water according to package directions for the minimum time (al dente). Drain, rinse under cold water; immediately drain again. Toss cheese with flour. Set aside.
Heat milk and salt in a large 8-cup (2L) glass measuring cup or dish in microwave or in a large saucepan over medium heat. When just starting to bubble, rapidly stir in cheese mixture, plus all flour that is not clinging. Microwave or heat, stirring frequently every 1 to 2 minutes until sauce is again just starting to bubble and is thickened. Remove bay leaf and thyme stem, if using; stir in black pepper and optional chili flakes. Fold in cooked pasta until well coated.
If mixture seems too thick, thin by stirring in additional milk; fold in any options. Return to microwave or saucepan; reheat until hot, stirring frequently. Serve right away.
Serves 4 (or 2-3 teenagers)
Joanna's comments:
I wish I knew about this recipe when my girls were small, or teenagers living at home, as this is a quick supper that can be altered easily to please each member of the family. They'd like a dollop of pesto on top for sure.
Take note of Marilyn's mixing of flour with the cheese, as this is a quick way to make a white sauce. Of course I have to make it the old way, as I don't have a microwave.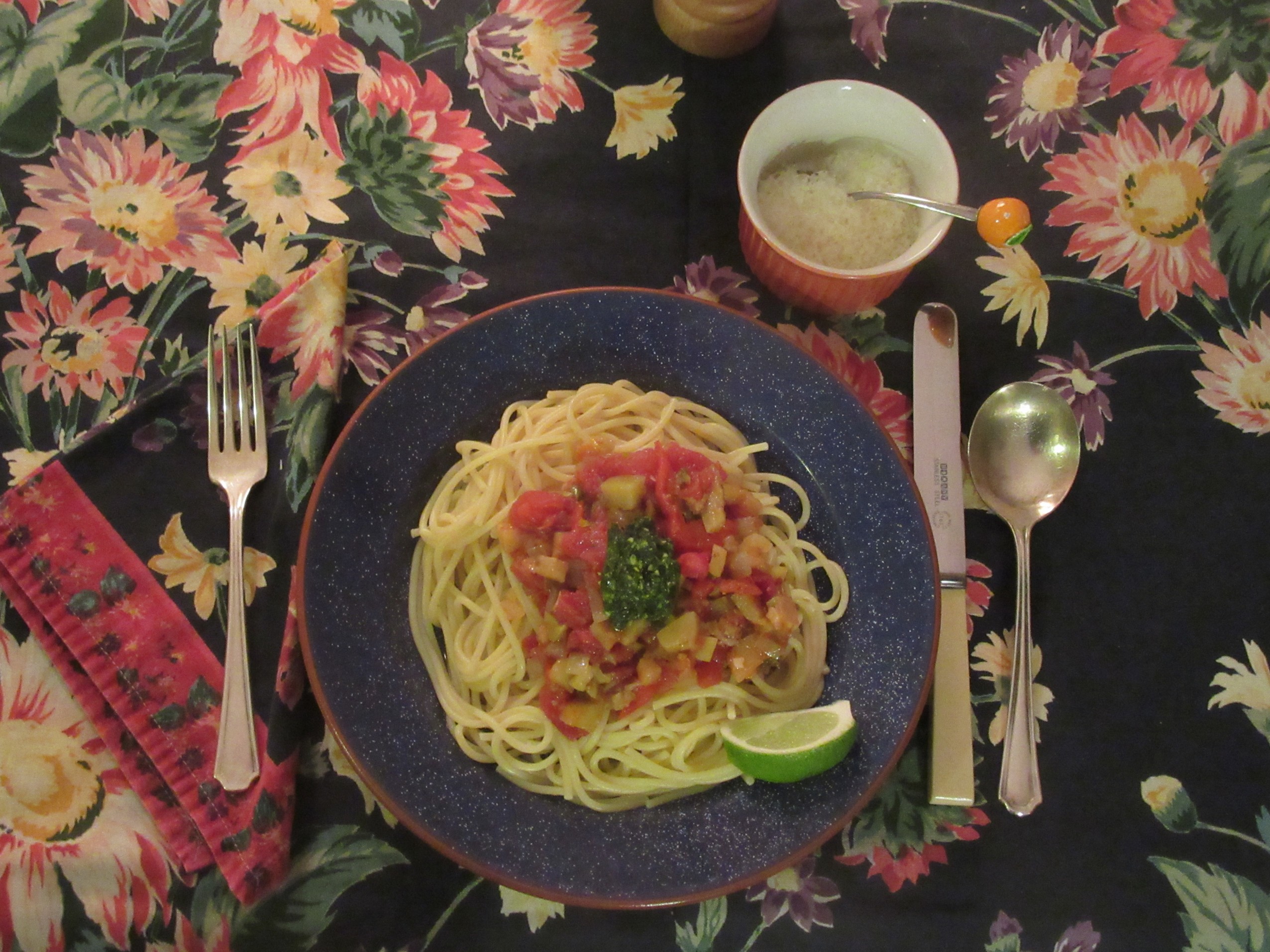 RIGHT BRAIN: Eggplant Spaghetti Sauce
Don't turn away; I did just that when first given the recipe many years ago. Eggplant is not that scary anymore, and everyone who eats this sauce wants a copy of the recipe to take home. It freezes well and purees nicely for kids with a phobia about lumps in their sauce.
1/3 cup (75 ml) olive oil
1 medium large onion, diced
2-4 cloves of garlic, crushed
1 medium eggplant, peeled and diced
28oz (800 ml) can diced tomatoes
2 roasted pimientos or seeded fresh sweet red peppers, diced
1/2 cup (125 ml) green olives, minced
1 tbsp capers, minced
6 anchovies, minced (optional)
5-10 leaves of basil, torn (or if you have basil pesto, instead use 1 to 2 tbsp – or more )
Salt and pepper
Juice of 1/2 lime
Heat oil and add the onions (and peppers if fresh) and begin to sauté.
Introduce the garlic and then the eggplant and cook for about 5 minutes.
Add the tomatoes.
Cover and simmer for 30 minutes.
Add the pimentos, olives, capers and anchovies and simmer for a few minutes.
Add the basil and check for salt and pepper.
Squeeze the lime into the sauce just before serving.
Marilyn's comments:
Whereas my mac 'n' cheese is about down-home as one can get, Joanna's pasta sauce is high-end restaurant quality where a bowl of this can-be vegetarian (if you sadly skip the anchovies) might set you back $15 to $20.
I tossed about a third of the sauce with enough cooked fuscilli for two, grated some Parmigiano Reggiano over top and heard my half-Italian husband do his high approval sound as he dug in, "Ummmmmm." He had no idea that the pasta sauce contained eggplant, just that it was delicious with a slight tang from the lime juice. It is now on my "company's coming" list of entrées.