LEFT BRAIN: Fresh Tomato Tortellini
Simple meals are desirable anytime, not just during the workweek, and this is one of restaurant quality. Serve it with tossed green salad and crusty rolls to mop up the delicious sauce from the pasta.
The small amount of vodka is a flavour enhancer as not all components of fresh tomato taste are soluble in water – it does make a difference and the alcohol totally dissipates leaving freed tomato nuances behind.
Serves 2 to 3
Large saucepan of salted water
8-oz (250g) cheese or meat tortellini (or slightly larger tortelloni)
1 tbsp (15 mL) olive oil
1/4 cup (30g) finely-diced onion
1 clove garlic, minced
1/4 tsp (2g) salt
2 cups (300g) seeded and diced fresh tomatoes (see tip)
1 tbsp (15 mL) vodka
2 tbsp (30 mL) whipping cream
Several grindings of freshly ground black pepper
3-4 large fresh basil leaves, chopped or torn
1/4 cup (10g) finely grated Parmesan or Romano cheese
Start sauce in a medium to large frying pan while water is coming to a boil. Cook pasta according to package directions.
Heat oil in frying pan over medium heat. Add onion, garlic and salt; sauté 2 minutes. Add tomatoes and vodka. Bring to a slow boil, reduce heat and simmer 10 minutes or until somewhat thick.
Add whipping cream and basil. Drain pasta and add to frying pan, tossing to coat with sauce. Spoon into warm pasta bowls and generously sprinkle with cheese. Serve right away.
Tip: Don't bother peeling tomatoes as the small bits of skin are not noticeable in the sauce. Seed the tomatoes into a sieve and press out the juices to add to the sauce; discard seeds.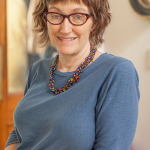 Joanna's comments:
This fast and easy sauce can be used with any kind of pasta. Alternately without the whipping cream I add some chilies to spice it up and pour it over fried potatoes. This delectable creation is known in Spain as "patatas bravas".
RIGHT BRAIN: Rustic Potato-Crusted Tomato Tart
Although few things taste better in season than tomatoes, just sliced and peppered, there are countless recipes to "gild the lily". This is a vegetarian recipe perfect for a light lunch or as a side-dish at dinner. This can be prepared in advance, but the baking will need to be a bit lower in temperature (350F 180C) and for about 35 to 40 minutes.
Serves 6 (as a main course) to 8 (as a side dish)
Line a 9 1/2-inch (24-cm) spring-form pan with foil and spray with non-stick spray
Preheat oven to 425F (220C)
6-8 large ripe tomatoes, sliced 1/2-inch (1-cm) thick
4 large russet potatoes, cut 1/8" (0.5-cm) thick
3 tbsp (45 mL) olive oil
3-4 garlic cloves, thinly sliced*
5oz (150g) mozzarella cheese (or another melty cheese such as mild provolone or Havarti), grated
Topping
2oz (56g) fresh bread crumbs
1oz (28g) Parmesan, grated about 2/3 to 1 cup
1/4 cup (3-4g) loosely packed basil
*garlic from the tomatoes
On a baking tray lined with parchment, place tomatoes in a single layer. Generously salt and grate pepper over top each tomato, adding a slice of garlic to each tomato. Bake at 425F (220C) for about 20-25 minutes.
Meantime start the potatoes by turning a frying pan up to high and heat up the oil. Lay the potatoes one layer at a time, salting lightly on each layer.
Flip the potatoes every 3-4 minutes taking care to keep the potatoes in large slices. Cook until soft and pliable, just cooked. Layer in the prepared pan pushing down gently with a spatula to compact.
Remove tomatoes from oven. Using a fork, lift off garlic and set aside for the topping. Lay the tomatoes over the potatoes and cover with mozzarella.
Using unwashed potato pan, lightly brown the breadcrumbs. Remove to cool a bit. In the food processor pulse Parmesan, basil and garlic, stir into breadcrumbs.
Sprinkle breadcrumbs over the mozzarella. Bake at 425F (220C) for 15-20 minutes or until the top is golden brown and the mozzarella is melted.  Leave it to rest for 5 to 10 minutes. Then remove the side of the pan having first gone around the edge with a knife to loosen the mozzarella so it comes away cleanly with the rest of the tart!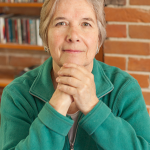 Marilyn's comments:
Make this tart when you have "mixed company", that is both meat eaters and vegetarians, as it can be a side to a piece of meat of a main course. Rather than using a tart pan, I use the large cast iron frying pan in which I sautéed the potatoes and don't bother browning the crumbs. The blackness of the cast iron contrasts nicely with the colours of the tart and it is easy to simply lift wedges out of the pan and onto warmed plates.