Tougher cuts of beef have tremendous flavour, however, slow cooking is needed. Here are two versions of beef short ribs, one on the barbecue and the other in the oven.
LEFT BRAIN: Spicy Dino Bones
Okay, really these are beef short ribs – buy the biggest, meatiest ones that you can find! Basically they require very little tending despite overnight brining and four hours of grilling. Then dine on tender, juicy ribs that look quite spectacular.
There is no substitute for fresh spices so buy some new for this recipe. Cayenne becomes a muted orange red colour with age and the spicy kick does the same. Use naturally smoked salt for the brining if you want to skip the smoking wood during the grilling.
Allow 1 rib per person as Joanna and I found that a 3 1/2 lb (2 kg) rack of four meaty bones fed our husbands plus ourselves as the beef is rich.
Serves 4
Beef
3 1/2 – 4 lb (2 kg) beef short ribs, a 4-bone rack
1 – 1 1/2 tsp salt or smoked salt
2-3 ounces (56-84 g) moist wood chips or twigs (I use apple twigs right off of the tree)
Rub
4-5 tsp coarsely ground black pepper
1 1/2 tsp granulated sugar
1 1/2 tsp onion powder (not onion salt – remember the overnight brining!)
1 tsp garlic powder (not garlic salt)
1 tsp chili powder
1/2 tsp dry mustard
1/2 tsp cayenne
Use a just-sharpened knife to remove fat and any silver-skin from the meaty top of the ribs. Leave the underside silver-skin in place so tender cooked meat is held in place after grilling.
Evenly sprinkle meaty side with salt. Cover and refrigerate for 12 to 24 hours. Place wood in a double thickness of foil; seal. Poke several holes in the top only.
Mix rub ingredients together; store in a small canning jar. There is likely enough mixture for two racks as I only used half of the mixture as for a good beefy flavour as well as the spices. However use as much as you think looks good!
When ready to begin grilling, preheat the barbecue to 250F (120C). Then shut off the centre burner or arrange the charcoal to one side so beef will slowly cook indirectly. Place twig packet below grilling rack on heated side or on coals.
Meaty side of beef is damp after brining; do not dry. Sprinkle and rub in spices on meaty parts. Place bone-side down on the area of barbecue with no direct heat underneath. Adjust temperature as needed to maintain 250F (120C) for two hours.
Keeping bone-side down, rotate beef as needed for even browning. Increase heat to 275F (135C), maintaining for 2 hours or until a meat thermometer inserted into the meatiest portion registers 210F (100C). Remove from grill. Cut between bones to form four pieces. Serve with coleslaw and potato salad.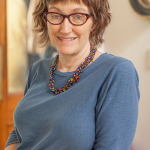 Joanna's comments:
Wilma Flintstone and I really enjoyed our dino ribs! The beef was delicious and quite dramatic looking on the plate.
RIGHT BRAIN: Braised Beef Ribs
When we open our cottage this is be a great meal. Gently warming the cottage while we set up for our first stay of the season.
Serves 6-8
Begin with the marinade
4lb (2kg) beef ribs
1 bottle (750ml) of dry, decent red wine
2-3 bay leaves
3 sprigs thyme, rosemary, oregano, or other herbs of your choice
4-5 cloves of garlic, smashed
1/2 cup (60g) flour, seasoned with1/2 tsp each of hot smoked-paprika, salt and pepper
2 onions. diced or a large leek ( woody green removed using all the rest), sliced
2-3 parsnips sliced into batons
3-4 carrots, sliced as batons
Generous handful (12-25) of cherry tomatoes
Have the butcher tidy up the ribs, removing silver skin and most of the fat from meaty side, and cut into 3-inch (7.5-cm) chunks of meat with bone attached.
Line ribs up in a 9×13" or similar, pour in the entire bottle of wine along with garlic with all the herbs.
Cover and marinate for 4 to 6 hours, turning occasionally. Prepare the vegetables.
Remove the ribs from the marinade and pat them dry with some paper towel. Lightly coat the ribs with the flour; discard remaining flour.
Choose a wide-based pan (often called a "Dutch oven") with a lid. Heat oil and brown the meat on all sides. Remove and set on a plate.
Heat the oven to 225F (110C). Saute onions until wilted and deglaze pan with the wine, including garlic and herbs; add beef. Cover and put in the oven for 2 hours.
Then take the ribs out; set aside. Add the carrots and parsnips to pan, cover and place back in the oven for 40 minutes or so.
Pull out the pan again adding back the ribs and the tomatoes to warm through, taste for seasoning and serve with mashed potatoes and sautéed multi-coloured peppers.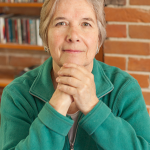 Marilyn's comments:
This delicious braise is rib sticking for cool and rainy times, which can occur during even the warmest months of cottage living. Mashed potatoes and tender-crisp peppers are the perfect accompaniment for this one-pot sophisticated dinner.