LEFT BRAIN: Colcannon
This homespun Irish mixture is a combination that is endlessly adaptable, but always starts with potatoes and cabbage. The English have a version of this dish too, dubbed bubble 'n' squeak, but whatever the national origin, it's surprisingly scrumptious, hearty and filling. In the picture, the colcannon is sprinkled with crispy bacon bits and green onion slices.
I like my simple adaptation because it uses easily available ingredients, including ready-cut cabbage, and can function as a vegetarian main course or delicious side dish. Any leftovers I make into pancakes and sauté to serve as part of a savoury bacon and egg breakfast.
Serves 4 as main dish, 6 to 8 as a side
350F (180C) oven
2 lbs (900g) russet or other mashing potato
3-4 tbsp (42-56 g) butter
1 small onion, finely diced or small leek, sliced
14 oz (397g) bag of ready-cut cabbage for coleslaw (about 8 cups)
4 oz (112g) grated old or sharp cheddar, about 2 cups
Freshly ground black pepper and salt
Peel potatoes and cut into chunks. Boil in salted water for 15 to 20 minutes or until tender. Drain and mash with half of the butter.
Meanwhile melt remaining butter in a large frying pan over medium heat. Sauté onion for 5 minutes or until just softened; add coleslaw mixture. Splash in 3 to 4 tablespoons of water to create steam; cover and let cook, stirring once or twice, for 10 minutes. Cabbage becomes bright green ad crisp tender.
Arrange rack above centre and preheat oven.
Add mashed potatoes to cabbage mixture. Taste and add salt and pepper as needed. Turn into a buttered 8-inch (20-cm) square baking dish or similarly-sized oval dish. Smooth the top and sprinkle with cheese.
Bake 30 minutes or until very hot. If cheesy top needs to be more golden, turn on the broiler for a minute or two. Serve with other vegetables, and if a side dish, meats such as peameal or "Canadian" bacon, lamb or pork chops or roast chicken.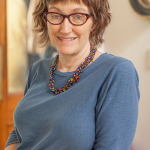 Joanna's comments:
I thought I didn't like cabbage! However this is a wonderful dish where the cabbage melts into the creamy potatoes and cheddar adds lots of flavour. I am going to try it with a ready-cut broccoli slaw mixture.

RIGHT BRAIN: Potato, Cauliflower & Leek Medley
Let the vegetables take centre stage! When your barbeque is almost ready to grill simple steak, pork tenderloin or lightly-seasoned chicken, just heat the potatoes and vegetables. I have used Parmesan, however Gruyere or Swiss would be equally delicious.
Serves 8
325F (160C) oven
Potatoes
3 lbs (1.35 kg) russet baking or Yukon Gold potatoes, peeled and quartered
1 small to medium cauliflower, cut into bite-sized florets
Approximately 4 cups (1L) chicken or vegetable broth
1-2 large garlic cloves, peeled
2 tbsp extra-virgin olive oil
1 tsp salt
1/2 tsp freshly ground black pepper
Leeks
1-2 large leeks
1 tbsp (15 mL) extra-virgin olive oil
Topping
1-2 large handfuls of fresh breadcrumbs
Freshly grated Parmesan cheese, about half the amount of breadcrumbs
1 large roasted sweet red pepper, peeled, seeded and diced
Finely-chopped fresh parsley
Pour enough broth into a large saucepan to just cover potatoes and garlic. [If broth is unsalted, add several generous pinches of salt.] Bring to a boil over high heat. Cover, reduce heat to low and cook for 15 minutes. Drop a steamer insert into the same pan and add the cauliflower, cooking for a further 10-12 minutes or until crisp tender.
Drain broth into heat-proof container and reserve. Set aside cauliflower and rough mash the potatoes using a fork. Using the fork, mash garlic clove. Stir into olive oil along with pepper. Stir oil mixture into potatoes [Covered potatoes can be kept in a warm spot for up to an hour.]
Meanwhile thinly slice white and light-green parts of leek; there should be a generous 3 cups (750 mL). [Freeze the deep green parts for making a vegetable stock.]
Heat oil in a medium frying pan over medium heat. Add leeks; sauté 5 minutes, stirring occasionally, or until leeks begin to soften.
Add 1/4 cup (50 mL) of reserved broth, cover and lower heat so mixture just simmers for 3 minutes or until leeks are tender. Lightly season with pinches of salt and a few grindings of black pepper.
Preheat the oven to 325 F (160 C). Pour in a few tablespoons of stock, just to create a sheen on the bottom a large casserole pan. Alternately pile spoonfuls of potatoes, cauliflower and leeks and spread the red pepper in amongst vegetables. [Refrigerate or freeze remaining broth to use in gravy or soups.]
Sprinkle over the top breadcrumbs mixed with cheese. Bake for about 25-30 minutes or until browning nicely.
Garnish top with chopped parsley and serve.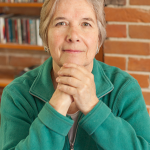 Marilyn's comments:
Joanna uses her home-baked bread for crumbs, however I save bits and pieces of Italian and French bread in the freezer to whirl in the food processor when needed for crumbs. Once hooked on fresh, there is no going back to the dried variety.