LEFT BRAIN: Grilled Salmon Steaks with Shallots & Seared Leeks
Seafood is an occasional treat in this family so it better be outstanding, which this is! This salmon is an elegant entrée, featuring a citrus-spiked Asian topping with slightly caramelized leeks beneath.
The components can be prepared ahead to be table ready with a half-hour's effort, so perfect for entertaining.
Serves 4
Salmon
4 skinless, boneless salmon filet pieces, each about 6-7 oz (180-210 g)
1 tbsp (15 mL) vegetable oil
Topping
1/2 cup (125 mL) dry white wine
1/4 cup (35-40g) finely-minced shallots
2 tbsp (20 g) finely-minced fresh ginger
1 1/2 tsp (7 mL) dark sesame oil
1 tbsp (15 mL) lime or lemon juice, preferably freshly-squeezed
1/2 cup (21g) finely-chopped fresh dill
Pinches of salt and freshly ground black pepper
Leeks
2 large leeks
1 tbsp (15 mL) vegetable oil
Pinches of salt and freshly ground black pepper
Use a very sharp knife to remove any brown fat from salmon. Rub bright-pink tops with vegetable oil. Cover and refrigerate until ready to grill.
Combine wine, shallots and ginger in a glass measuring cup. Microwave on high until reduced by half, about 2 minutes. Stir in sesame oil and lime juice. When cooled a bit, stir in dill and season to taste. Set aside at room temperature if using within two hours, or cover and refrigerate for up to half a day.
Cut leeks in half lengthwise, discarding dark green tops and root. Diagonally cut crosswise into 1/2-inch (2.5 cm) pieces. Wash in a salad spinner to remove grit; spin dry. The very large heap of leeks shrinks considerably when sautéed (so don't panic!). Set aside at room temperature for a couple of hours or refrigerate, covered, for up to a day.
About half an hour before dining time, heat oil in a very large frying pan and begin to sauté leeks over medium heat, turning frequently. Add in batches as wilting occurs.
Preheat barbeque to medium to medium-hot. Once hot enough and leeks have been cooking for about 20 minutes, place salmon, oiled-side-down, on grill for 4 to 6 minutes, or until brown grill marks are evident. Turn salmon; continue grilling for another 4 to 6 minutes. Or use a fork gently to separate the flakes of flesh to show a slightly under-cooked centre for medium or opaque for well-done.
Leeks are ready when some have become a delicious golden colour. Lightly season with salt and pepper.
Make a bed of leeks on warmed serving plates. Place salmon over top and spoon on dill topping. Serve with wild rice medley.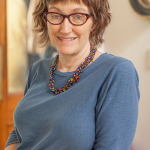 Joanna's comments:
Marilyn's guests always enjoy excellent food. This recipe, with three different components, is restaurant quality so clearly "fits the bill" at a fraction of the cost of dining out.
We enjoyed this salmon at the cottage, and I have frozen the remaining dill, still in the bunch, to snip off for use in other recipes. Why do they sell such huge bunches?
RIGHT BRAIN: Luscious Braised Leeks
Spring is here so local leeks are plentiful. This dish works as a base for any main course, but especially with fish, chicken or spring lamb. Get out the barbeque for grilling and add just add these braised leeks to make dinner a memorable spring feast.
Serves four
1 tbsp (14g) butter
2 large shallots
3-4 medium leeks, halved lengthwise
20-25 cherry or grape tomatoes, sliced in half
1/2 cup (125mL) dry white wine
1/2 cup (125mL) juices from a can of diced tomatoes
1/2 cup (125mL) canned diced tomatoes
Pepper and salt
Two bay leaves
Using a casserole or low wide saucepan with a well fitting lid, melt butter and add shallots, sautéing only to soften.
Add wine and let bubble to burn off the alcohol.
Add tomato juice, canned tomatoes, halved cherry tomatoes, salt, pepper and bay leaves.
Lay leeks, cut side up, and snuggle into the tomato mixture.
Turn heat to low, cover, and braise until the leeks are soft but not mushy, about 20-30 minutes.
Tip: We recently enjoyed this braise with lamb rack, hot from the barbeque. However if having fish (perhaps Rainbow trout) sit it right on top of the leeks to braise together.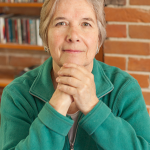 Marilyn's comments:
Recently with overnight guests, I served this at dinner with marinated and grilled pork kebabs to great acclaim. Our guests happily left the next day with the remainder – and the recipe.
White wine is key to the exceptional taste here as the alcohol releases subtle flavours that are not soluble in water, but are in alcohol. I must admit, I used chicken broth instead of the tomato juice and omitted the extra diced tomatoes as I had a box of Campbell's finest broth in the refrigerator to use up.