LEFT BRAIN: Pumpkin Seeded Biscotti
Black sesame seeds add especially good looks to these savoury toasts. Sometime I use black onion seeds instead (also known as nigella) as they have a pleasant pungency packed into their tiny triangular shape.
Serve these biscotti as nibbles with drinks, especially beer, and also to accompany savoury soup or salad. Or package up a dozen in a clear bag, tie on a ribbon and present as a hostess gift.
Makes 24 biscotti
2 cups (256 g) all-purpose flour
3 tsp (8 g) black or white sesame seeds, divided
2 1/2 tsp (10 g) baking powder
1/4- 1/2 tsp (1.5-3 g) salt (use greater amount with unsalted butter)
Pinch or two of cayenne
3/4 – 1 cup (175 – 250 g) green pumpkin seeds
1/2 cup (70 g) grated hard cheese such as Parmesan or Asiago
2 medium green onions, thinly sliced
2 eggs
1/2 cup (125 mL) dry white vermouth or wine
1/4 cup (56 g) butter, melted
1/2 tsp (2-3 g) coarse salt
Preheat oven to 350F (180C). Line a large cookie sheet with parchment paper or foil. Stir flour with 2 teaspoons sesame seeds, baking powder, cayenne and salt; mix in pumpkin seeds, cheese and green onions. Set aside remaining sesame seeds for garnishing loaf top.
Lightly beat eggs to just combine; set aside 1 tablespoon (15 mL) for brushing top. Mix remaining eggs with vermouth. Stir into flour mixture along with melted butter until dough is evenly moistened.
Wet hands and shape dough into a loaf about 12-inches (30-cm) long on parchment. Flatten loaf until about 3/4-inch thick. Brush with egg. Sprinkle evenly with remaining seeds and coarse salt; lightly pat into dough.
Bake in preheated oven for 25-30 minutes or until loaf seems firm when touched. Grasping paper, slide loaf onto a large cutting board. Cool then cut crosswise into 3/4 inch (2 cm) thick slices. Stand biscotti upright about 1-inch (2.5-cm) apart on baking tray.
Reduce temperature to 300F (150C). Bake slices 30 minutes; then turn off oven. Leave biscotti in oven as it cools for another hour and a half or until biscotti feel quite dry to the touch. Store air tight for several days or freeze for weeks; simply warm to restore fresh-baked taste.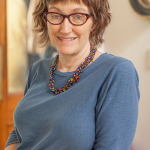 Joanna's comments:
These are so good I made them twice in one week. They're great accompaniment for soups and drinks – and book launches at our bookstore. Take note of Marilyn's biscotti baking technique as it halves the second bake time.
RIGHT BRAIN: Rustic Seeded Malt Bread
Having tasted a hearty loaf of bread full of seeds, I decided to attempt my own, with great success. Change up the mixture by replacing some seeds with toasted slivered almonds or raisins.
400F (200C)
Makes: two small loaves or one large
3 3/4 cups (480 g) all-purpose or bread flour
2 1/4 tsp (7 g envelope) instant dry yeast
2 tsp (4g) sea salt flakes or 1 tsp (4g) fine sea salt
1 1/4 cup (310 mL) water
4 tsp (20 mL) maple syrup or brown sugar
2 tbsp (18 g) dry malt extract or 2 tbsp (30 mL) malt syrup (see tip)
2 tbsp (30 mL) olive oil
5 oz (150 g) total mixture (your choice!) of sesame seeds, poppy seeds, sunflower and pumpkin seeds, about 1 1/3 cups
Put flour, yeast, sugar and salt into a large bowl and mix together.
Stir water with maple syrup malt and oil; add to dry ingredients. Mix until the dough starts coming together. If too dry, add more water, a tablespoon at a time.
Dump all the seeds into the dough while mixing. We're looking for an even blend here.
Grease a bowl, add dough and loosely cover to rise in a warm place. It needs about an hour.
Punch down the dough; dividing into two if desired. Shape into ovals; place on parchment paper covered tray.
Rise again for another 15 minutes or until about doubled.
Bake for 25 minutes or until golden. A light tap on the underside of the loaf should sound hollow.
TIP: Malt extract and syrup are used in beer making, and thus can be found at make-your-own-brew stores or sometimes in health food stores. They keep indefinitely when sealed in a glass jar in the refrigerator.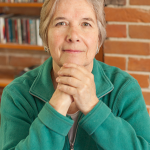 Marilyn's comments:
This bread is a curse in our household as both my husband and I are certain that it makes the best breakfast toast – ever! Keep a stock of the slices in the freezer. I adapted the recipe to a bread maker, fondly known in our household as "the dough machine".
Make the dough in the machine, layering in the ingredients, minus seeds according to your machine and reducing the amount of yeast to 1 1/2 tsp. When ready, turn it out onto the seed-mixture-covered board and knead the dough until the seeds are evenly incorporated. Shape it into one large loaf, cover and let rise slowly at room temperature. When the loaf has doubled in size, bake it for 30 to 35 minutes or until the underside sounds hollow when tapped.
Another change I often make is to replace some of the white flour with whole-wheat flour. When I do this, I usually need to add extra water.