LEFT BRAIN: Roasted Squash Tart with Bacon & Cheese
This is a sophisticated tart using ordinary grocery store items, including the pastry. It's perfect for a luncheon or prelude to dinner either as a sit-down appetizer or small pieces with drinks. The roasted squash on it's own is so flavourful that it is also delicious served simply as a hot vegetable with just a sprinkling of parsley for colour.
Trader Joe's sells all-butter puff pastry in the holiday season or purchase President's Choice Brand, as it is at least part butter.
If you have a pizza stone or ceramic tiles to fit the oven, place them on the lowest rack. Merely slide the tart still on its parchment onto the stone for baking as this gives the best rise to the puff pastry.
Serves 2-3 for lunch, or 4-6 as an appetizer, or numerous nibbles with drinks
Preheat oven to 400F (200C)
1/2 medium butternut squash, about 400 g (14 oz)
1/4 cup (15g / .5 oz) grated Parmesan (see tip)
1 tbsp (15 ml) olive oil
2-3 pinches of salt
2-3 grinds of black pepper
3-4 strips of bacon, about 100g / 3.5 oz)
1 cup (100 g / 3.5 oz) finely-sliced leek or onion
1 sheet (225 g or 8 oz) puff pastry, preferably with butter
1 cup (60 g / 2 oz) grated mozzarella (see tip)
Preheat oven to 400F (200C). Peel, seed and cut squash into 1/4-inch (0.5 cm) slices. Toss with grated Parmesan, salt, pepper and oil. Place in a single layer on a parchment lined baking sheet. Roast in the centre of the oven for 30 minutes; then cool.
Meanwhile, slice bacon crosswise into 1-inch (2.5-cm) pieces. Sauté over medium heat until crispy. Drain bacon on paper towels. Pour off most of the fat in the pan; discard.
Return hot pan to medium heat to sauté leeks or onion until wilted. Cool. [Steps one through three can be done ahead, covered and refrigerated for a day or until needed].
Unroll pastry. With a sharp knife score (don't cut through) a 1/2-inch (1-cm) border around the edge of the puff pastry. Then arrange roasted squash neatly in a single layer inside the border – cut squash to fit as needed.
Then scatter with leeks, bacon and mozzarella cheese. Slide onto a baking sheet. Bake on the lowest rack of the oven for 30 minutes or until golden brown. Slide off parchment, cool a minute or two and cut into portions. If serving with drinks, cool completely to room temperature before cutting and passing.
Tip: As I often have bits and pieces of strong cheese lingering in my refrigerator, I sometimes mix Parmesan and Romano for the squash roasting and mozzarella with a small amount of sharp provolone for the topping. Use what is on hand and don't be afraid to experiment with a different autumnal squash! But do keep in mind this is not a pizza so don't overload the tart with cheese.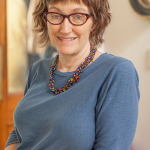 Joanna's comments:
With little money dining on squash was a useful and filling way to satisfy hungry housemates. Halved, cleaned and filled with bacon and some nice melty cheese, we'd eat our fill and compost the bowl. Marilyn has taken the same ingredients to a whole new level. Attractive and tasty.
RIGHT BRAIN: Stuffed Autumnal Squash
There is certain chemistry in the autumn and bountiful quantities of pumpkin and other squash give us colour and plenty of flavor as the summer ends. This recipe leaves the choice of vegetable to you, but fills six acorn (or smallish butternut) squash halves.
A vegetarian main course for six, or plenty for everyone at a large dinner party
Preheat oven to 400F (200C)
3 medium-size squashes, skin pricked all over
1cup (185 g/ 6.5 oz) quinoa
1 medium onion, diced
2 tbsp (28 g/1 oz) butter
Stock, vegetarian or chicken, about1 1/3 cup (325 ml)
2/3 cup (150 ml) dry white wine
3/4 to 1 cup dried fruit, about 125g /4 oz (I used pear and cherries)
1/2 cup (28g /1oz) grated Parmesan
1 cup (4 oz /125g) pecans, roughly chopped
Salt and pepper
Heat oven to 400F (200C) and add the pricked squashes on a tray. Leave to bake for 25-30 minutes until softened but not quite cooked. Remove squash from oven, leaving until cool enough to handle.
Place dried fruit in a pot and cover with wine. Bring to a boil and turn down to simmer for 10 minutes. Drain, keeping the wine juices to use for the quinoa. Leave fruit to cool for easier cutting (try using your kitchen scissors).
Measure the wine and add stock to make 2 cups (500 ml).
Sauté onions in butter until soft but not coloured. Add the quinoa, several pinches of salt and stir to coat with the butter. Add the wine and stock liquid to the pot and bring up to the boil, reduce heat to a simmer and cover. Cook until all the liquid is absorbed, just like a pilaf.
Chop the fruit, pecans and grate the Parmesan.
Check the quinoa for doneness, salt more if needed and add a few gratings of pepper, fruit, Parmesan and most of the pecans, holding some nuts back to decorate.
Cutting in half, open the squashes, rake out the seeds and stringy pulp. Place in a casserole or baking dish big enough for the six pieces and dollop equal amounts of the quinoa into each squash bowl. Sprinkle with the rest of the pecan. STOP HERE IF DESIRED, holding until ready to bake.
Bake again at 400F (200C) until the squash is nice and soft, about 20-25 minutes.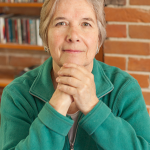 Marilyn's comments:
While quinoa is high in protein, which is perfect for vegetarian fare, this recipe begs for experimentation. Firmly cooked rice (use a bit less liquid when cooking), dried fruit such as apricots and cranberries and most of all the nuts can add endless variety. I'd opt for pistachios for their green colour or cashews for their richness or almonds because I adore them. Have some cooking fun with this recipe – you won't be disappointed.