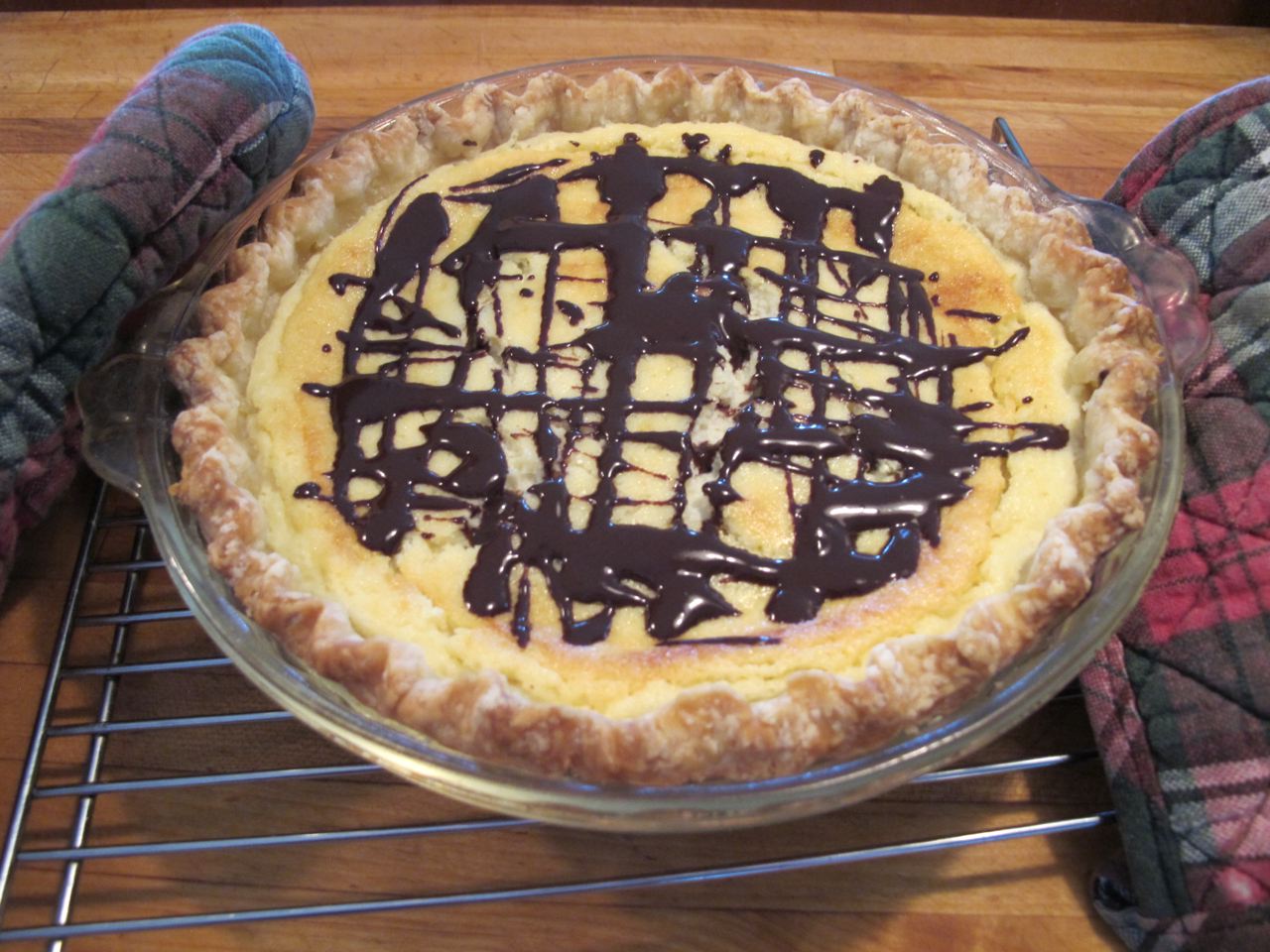 LEFT-BRAIN: Ricotta Pie
This dessert is an excellent finish to any meal and includes a pastry that does not "sog-out" like those under many creamy pies! And for make-ahead enthusiasts, it is even better after chilling for a day.
For vegetarians, I make the crust with oil instead of lard, however the crust with lard is the better of the two versions. The pie is a high protein dessert for a vegetarian meal too. I never use vegetable shortening due to the unnatural trans fats formed by artificial hydrogenation. Usually I freeze one of the pastry discs.
Pastry (two crusts):
2 cups all-purpose flour
1 tbsp granulated sugar
3/4 tsp salt
3 oz lard or 1/3 cup (75 mL) vegetable oil
2 oz (1/2 stick) cold butter, cut into pieces
1 egg
2-4 tbsp cold water
1 tsp white vinegar
Filling:
3/4 lb ricotta cheese, preferably whole-milk
1/3 cup granulated sugar
1/2 tsp vanilla
2 tbsp rum or brandy
4 eggs, separated
Ganache (make half for the small 8-inch pie):
2 oz bittersweet or semi-sweet chocolate, chopped
6 – 8 tbsp heavy or whipping cream
Dash of vanilla
To make pastry, stir flour with sugar and salt. Using a pastry cutter, cut in lard and butter until mixture resembles coarse oatmeal. Using a fork, combine egg, 2 tablespoons of water and vinegar in a measuring cup.
Stir egg mixture into flour mixture. Then add only enough water, a tablespoon at a time, until dough more or less clings together. There will be a few somewhat dry spots! Divide in half, heap onto pieces of plastic wrap; force each into a ball, then flatten slightly into a disc about 1-inch thick. Refrigerate to fully hydrate flour, from a couple of hours or up to a day or two.
Preheat oven to 425F (220C). Stir ricotta with sugar, vanilla, zest, brandy and egg yolks. Place whites into another bowl; set aside to warm to room temperature while rolling out pastry.
Roll out a single pastry large enough to line a 8- or 9-inch pie plate. Flute the edges so that they are well above the edge, of pie plate. Freeze remaining dough if only making one pie.
Using electric beaters, whip whites until soft peaks form. Stir a third into the ricotta mixture to lighten; and then fold in remaining white just until streaks are gone. Turn into crust.
Place pie on lower middle rack of preheated 425F oven; set timer for 10 minutes. Then, without opening oven door, reduce heat to 350F and continue baking for 30 to 35 minutes. When pie is golden, it is done and a slight shake produces a wiggle, and a knife inserted near the centre comes out clean – if in doubt, consider it done rather than adding time. Turn off oven, crack open door and leave pie in cooling oven with the door ajar for 30 minutes. Then put pie on a rack to cool slightly.
While pie is still warm, place chocolate and 6 tablespoons of cream in microwave for 30 to 60 seconds or until just hot, but all the chocolate is not melted. Add vanilla; stir until smooth with the texture of warm hot fudge sauce. If too thick to drizzle, stir in more cream, tablespoon at a time. Drizzle chocolate over pie; place in refrigerator to set; about an hour. Then cover pie and continue to refrigerate until serving time. Pie keeps well, covered and refrigerated, for several days.
Makes 6 to 8 servings
Joanna's comments:
There were plenty of happy faces as I passed this pie around the table at the cottage this summer. It is a delicious and not so sweet recipe.
I might introduce the bittersweet chocolate right into the mix to ensure even distribution and leave a top surface ripe for decoration with fresh fruit.
Another thought is to recreate the ricotta pie as a cake. With enough attention to preparing a spring-form pan, one could enjoy the white or chocolate cake with a few less calories.
RIGHT-BRAIN: Portuguese Tarts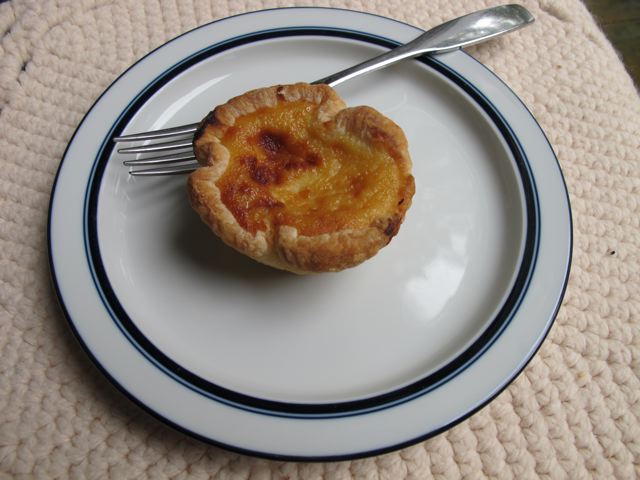 Makes 12 regular muffin size tarts
I discovered Portuguese tarts at Easter while visiting a friend in Hamilton, Ontario. Although not an arduous recipe if you live there as your dessert can come out of the box rather than your oven! The puff pastry rolling is counterintuitive as one breaks down the efficacy of the layers which have been so carefully created.
You can prepare the tarts in advance and pop them in to bake while you enjoy dinner as they are delicious while still warm. You may have a custard recipe of your own although you might have to fudge the ratios to fill the tarts.
400F or 200C
1 whole egg
2 egg yolks
1/2 cup sugar
2 tbsp corn flour (or cornstarch)
2 bottles (340g total) Devon cream (shake a little milk in pots to get out all the cream) or 1 3/4 cup heavy whipping cream
2 vanilla pods or 1 tsp vanilla extract
1 ready-rolled puff pastry (225g roll)
Lightly butter the cups of the muffin tin. (Hint: Keep butter paper wraps in the freezer for this job.)
Split the vanilla pods and scrape out the meaty seeds dropping the whole lot, pods included, into a medium sized pot with the cream. Heat to just below the boiling point and remove from the stovetop to let the cream garner the vanilla essence about 15-20 minutes. Remove pods.
In a bowl mix the eggs, sugar and corn flour and mix thoroughly.
Add a small amount of the warm cream to the eggs and whisk immediately so the eggs don't start to curdle. Repeat a few times and then introduce the egg mixture into the warm pot on a low temperature and stir making sure you are constantly touching all parts of the bottom to avoid getting lumps.
Once the custard coats the back of the wooden spoon pour it into a bowl, cover right onto the top of the custard's surface so it stays soft and leave to cool.
Remove pastry from the fridge and cut into 2 pieces "across the equator" not lengthwise. Put one on top of the other and have the short side facing you. Now, being careful roll the pastry up keeping the ends even.
With a serrated knife cut the pastry into 12 even discs, each about 1/2" thick.
Flour both sides of each disc rolling to a circle of 4" or 10cm. Tuck into buttered cups.
Preheat the oven to 400F. When the custard is cool, distribute into muffin tins and bake for 20-25 minutes or until a few lovely golden spots appear on the surface. Cool for a time before removing from the pan.
Marilyn's Comments:
Joanna's method of using purchased puff pastry to line muffin tins for tarts is brilliant. The crisp texture of the pastry is so much more delicious than standard purchased pastry shells for tarts. I will use this method not just for Portuguese tarts, but also for other fillings from caramel pecan in the winter to strawberry rhubarb in the spring.
I took a batch, well almost a batch as two disappeared at my house before I departed, to a potluck tea sponsored by my chapter of the DAR (Daughter's of the American Revolution). Despite overly generous amounts of sandwiches and sweets contributed by members, which meant many leftovers, not one Portuguese tart remained at the end of the event!