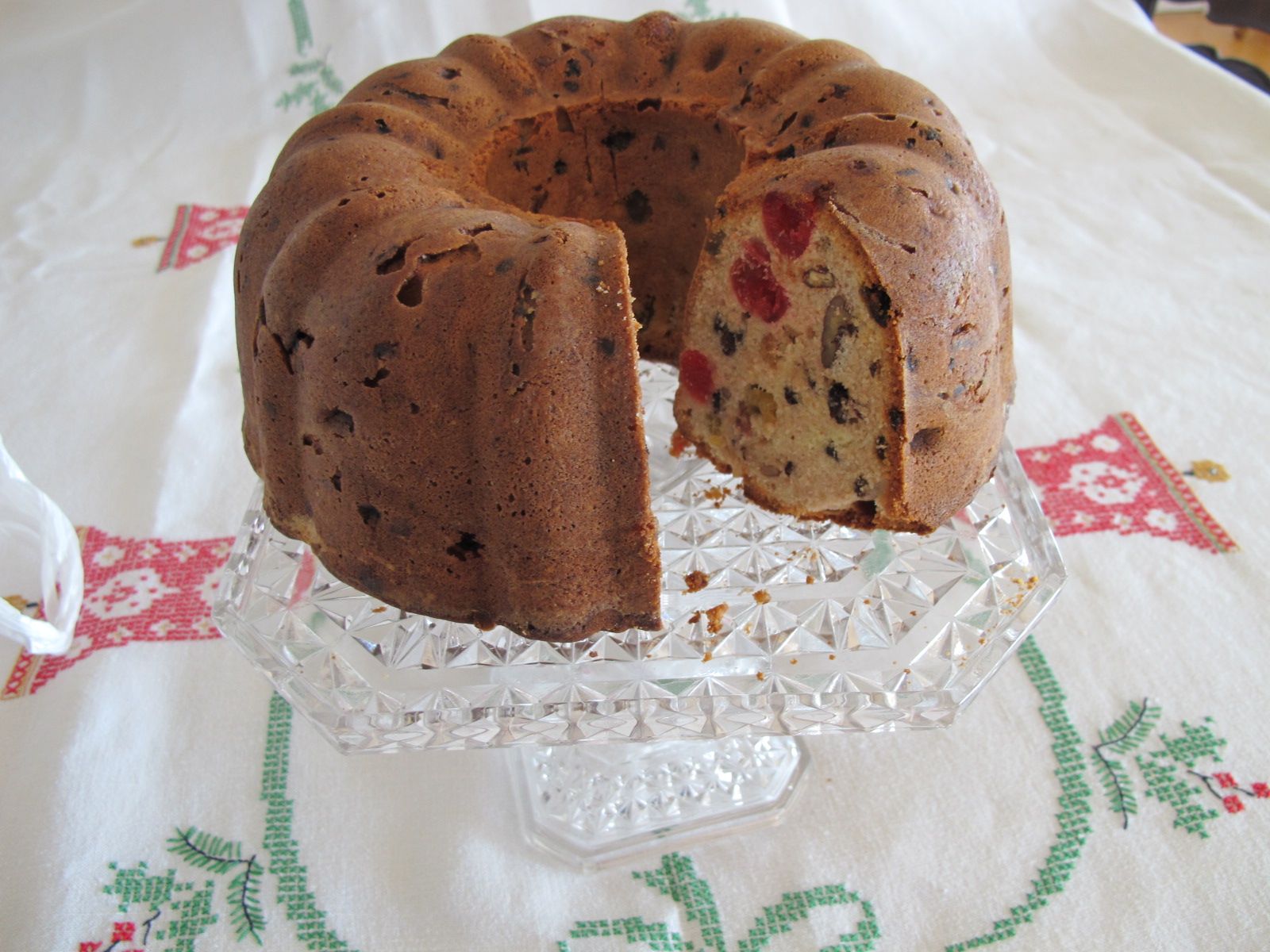 LEFT BRAIN: Nutmeg-Scented Pound Cake with Pecans, Fruit and Brandy
This light cake is buttery, studded here and there with a nut or a piece of fruit, whereas many fruit cakes, such as Joanna's, are very densely packed with nuts and fruit. Many 'fruit cake haters' find that they enjoy a slice of this less-weighty cake.
This cake does not have to be made months ahead to age properly for the holidays as it is delicious immediately without aging. However it keeps beautifully so can be served all through the season.
The origin of this cake is from a 1974 McCall's magazine. I have over the years, personalized the fruit mixture and use brandy instead of bourbon.
Do not even consider using margarine!

Fruit and nuts:
2 cups (180g) pecan halves
3/4 cup (90g) currants
3/4 cup (120g) golden raisins
1/2 cup (80g) dark raisins
1/3 cup (65g) glaceed red cherries
1/3 cup (65g) glaceed green cherries
1/3 cup (54g) glaceed mixed peel or citron
1/4 cup (60 mL) brandy
Cake:
7 eggs
1 1/2 cups (340g/3 sticks) butter, preferably unsalted
2 cups (400g) granulated white sugar
1 tsp (5 mL) pure vanilla extract
3 1/2 cups (455g) all-purpose flour
1 1/2 tsp baking powder
1 tsp freshly grated nutmeg (no, this is not too much!)
1/2 tsp salt
Toss nuts with various fruits; pour over brandy. Stir and cover tightly for at least half a day or up to several.
When ready to bake, place cold eggs into a bowl. Cover with hot tap water and let stand to temper the eggs. When ready to use drain off and discard water!
Unwrap butter, placing into electric mixer bowl. Use papers to butter a 10-inch bundt or tube pan; then flour the pan. Preheat oven to 350F.
Beat the butter until light and fluffy. While beating, slowly add sugar. Beat again until light and fluffy. One by one, add eggs, beating well after each addition. [Hint: crack each egg into a custard cup before adding to the butter mixture; this avoids any bits of shell making their way into the cake.]
Stir flour with baking powder, nutmeg and salt. When butter mixture is truly light and fluffy, slowly add flour mixture at slow speed. Then using a spatula by hand, fold in the fruit and nut mixture.
Turn into prepared pan, smoothing top. Bake in centre of oven for 1 hour and 10 to 15 minutes or until a thin skewer inserted into cake middle comes out clean. Cool on a rack for 20 minutes; they loosen and turn out to finish cooling.
Soak cheesecloth with more brandy; wrap cake. Place in a large plastic bag and seal. In a week's time, re-soak the cheesecloth. Cake keeps well for weeks in a cool place or the refrigerator.
Makes 1 large cake, from 16 to 24 servings.
Joanna's comments:
For a more modern version of fruitcake this makes perfect sense. Lighter (obviously) than mine the texture is dense but airy. It could be eaten any time of the year changing out the candied fruit to nuts, dried fruit or even dark chocolate.
RIGHT-BRAIN: Dark as Midnight Christmas Cake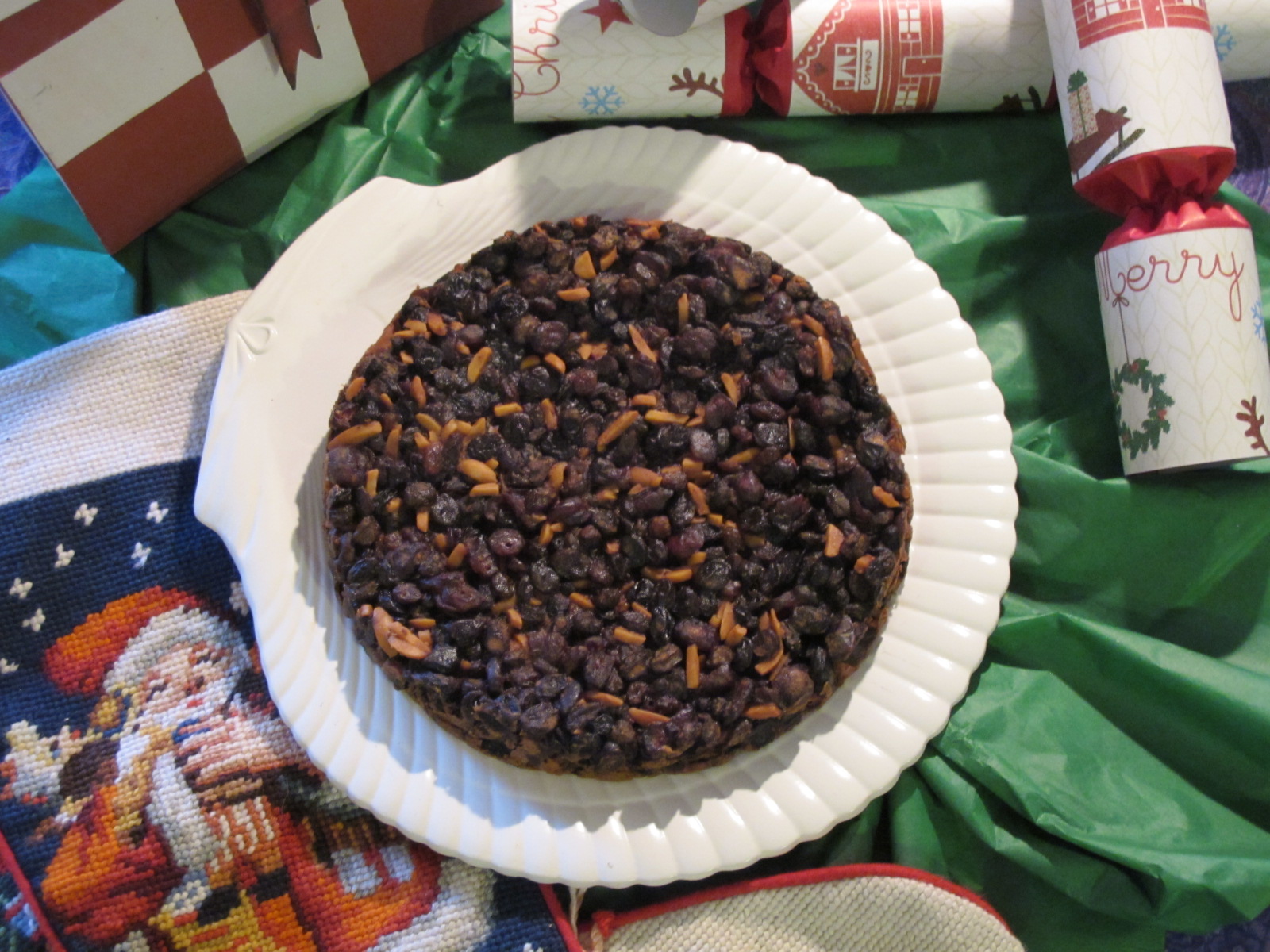 This was my mother's recipe and the only change I have made over the years was to pull all the glaceed fruit and replace it with dried fruit and nuts. This recipe has been halved so if in the future you want to make the whole batch, all 17 3/4 pounds of it, just use 9 eggs. Prepping the pans is the messiest part of the job but well worthwhile. You may think it mad but I take my little weigh scale to the health food store to measure everything there. Then I can just dump the sticky fruit right into the bowl.
And about the pans… this should make a 3 tier wedding cake. Or at Christmas, count on 2 large 12-inch round pans (or use two 10- x 15-inch rectangular pan) and 2 regular 9" round cake pans (or even spring form pans which can hold more cake). The larger cakes can be quartered as gifts.
Don't waste this cake on anybody who doesn't understand the glory of this Christmas gem.
1/2 lb unsalted butter (225g)
1 1/2 c brown sugar (350g)
5 eggs
2 cups flour (300g)
1/2 tsp baking soda
1 tbsp each of nutmeg, cloves and cinnamon
1/2 tsp salt
1/2 tsp each of vanilla, lemon extract and almond extract
1/2 cup of grape juice or jelly (125 mL)
1 1/2 lbs seeded raisins (often sold as sultanas) (680g)
1 1/2 lbs seedless raisins (Thompson variety) (680g)
1 1/2 lbs currants (680g)
1 1/2 lb dried cranberries (680g)
1/4 lb dried tart cherries (113g)
1/4 lb slivered blanched almonds (113g)
1/2 cup brandy, sherry or port (125 mL)
Line sides and bases of your chosen pans with 3 layers of parchment paper, using unsalted, melted butter on the paper.
Prepare the fruit using 1/2 cup of flour to help break up clumps.
Cream butter; add sugar and cream again. Add lightly beaten eggs and beat thoroughly.
Mix remaining flour with baking soda, spices and salt.
Add flour and grape juice alternately until smooth.
Place this mixture into a large bowl and fold in the fruit bit by bit. [This route is far less arduous than trying to mix the wet with dry. Trust me I only had to make that mistake once!]
Place in prepared pans, about 2/3s full, covering with foil or parchment if using more shallow tins. Adding a container of water in bottom of oven also keeps the cake moist.
Bake at 275 F (140 C) for 2 1/2 to 4 hours dependent on the deepness of pan.
Pour brandy, port, rum, or sherry liberally over the cooled cakes and wrap them up well. Through the year top them up with more booze so they remain moist.
Marilyn's Comments:
I enjoy most fruitcakes, and every year I make a couple of varieties, sending some to my sister and a good friend both of whom like fruitcake. They tend to like 'light' fruitcake rather than 'dark'.
However Joanna's fruitcake is my personal favourite. So I make a batch just for me and spend the rest of the year enjoying it – although the necessary dieting to support this habit of mine, somewhat less.
I call it 'midnight fruit cake' because of its very dark colour, which comes from the fruit, not molasses. I also use golden raisins in place of the seeded sultana raisins as they add a slight tanginess.