LEFT BRAIN: Deconstructed Beef Stew
Perhaps you were one of those children who insisted that various components of dinner not touch each other on the plate or maybe you abhor a restaurant buffet where plates are heaped willy-nilly. Whatever your preference, separate or tossed together, here's the components of a beefy stew neatly arranged with each distinct and full of flavour ready for your mixing to order! See tip for simple cooking instructions for potatoes, carrots and peas.
Cooking time: 2 1/4 hours
Serves: 4 to 6
2 lbs (900g) blade roast, also called a chuck roast or "pot roast"
1-2 tbsp (15-30 mL) vegetable oil, preferably safflower, peanut or olive
7 oz (200 g) sliced onion, about 2 cups or 2 medium
1/4 cup flour (35 g) all-purpose flour
9 oz (284 mL) can consommé plus water to equal 2 cups (500 mL) or equivalent in beef broth
1/2 cup (125 mL) red wine
1 bay leaf
1 large sprig fresh thyme of 1/2 tsp dried
8 oz (225 g) fresh mushrooms, sliced
Roasted carrots, allow 1 medium carrot per person
Mashed or boiled potatoes, allow 1 large or 2 medium per person
Petit pois (tiny peas), allow 1/2 cup (85 g) per person
Cut roast horizontally into two thick steaks; discard any string or loose pieces of fat. Heat oil over medium high heat in a large pot such as a dutch oven until very hot. Brown steaks until richly coloured, about 8-minutes per side. Remove from pot.
Reduce heat to medium. Add onions, stirring occasionally until wilted, about 5 minutes. Sprinkle flour over top; stir. Add consommé and wine slowly, stirring all the while.
Meanwhile cut steak into large 1 1/2-inch (3.5-cm) cubes. Add to liquid mixture in pot. Drop in bay leaf and thyme. Bring just to a boil.
Reduce heat to very low so stew barely simmers with cover slightly ajar and stirring occasionally for 1 1/2 hours hour. Remove lid if broth seems thin and continue simmering another 1/2 hour. Then add mushrooms and cook for 15 minutes. Keep stew warm or cool and refrigerate, covered.
When ready to serve, remove bay leaf and thyme sprig. Taste and grind in black pepper as needed, however it likely will not need salt due to the salty consommé. Serve with carrots, peas and potatoes.
Tips:
Cut carrots into pieces about 1/4-inch (.5-cm) thick. Place on a baking tray; drizzle with a bit of olive oil and toss. Arrange in a single layer; lightly season with salt and pepper. Bake at 425F (225C) for about 15 minutes or until barely tender and golden in spots. I use my toaster oven!
Peel potatoes, cut in half and bring to a boil in salted water; reduce heat and gently boil until tender from 20 to 25 minutes. Drain, then serve potato halves or mash with a bit of butter and sour cream
Microwave the frozen peas with a splash of water for 2-3 minutes, depending on quantity, then drain.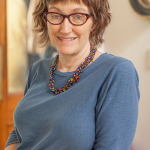 Joanna's comments:
Rich and fortifying, here's a recipe that beckons one back to supper after a day of skiing.
RIGHT BRAIN: Beef & Tomato Stew
We often have partial bottles of white wine taking up fridge space, challenging me to use them up as added flavor in new recipes – thus this delicious winter stew. To ensure tender chunks of beef try my method of using a pot roast instead of "stewing beef".
Serves: 4 to 6
250-275F (120-135C)
Cooking time: 2 1/4 hours
2 tbsp (30 ml) olive oil
2 lb (1kg) pot roast, also labeled blade or chuck roast
6 oz (175g) shallots, sliced fine
4 cloves garlic, minced
1 cup (250 ml) dry white wine
28 oz (796 ml) can of tomatoes
3-4 thyme sprigs
2 bay leaves
12 oz (375g) carrots, sliced as coins
(you might need about a teaspoon of sugar)
Cooked pasta (see Marilyn's comments)
Brown the pot roast in one piece until it has good dark colour on all sides in a medium Dutch oven. Set to the side on a platter to cool. Once cool, cut into bite-sized pieces and generously salt and pepper.
Deglaze the casserole with the wine, scraping up any sticky bits.
Add all the ingredients, excepting the beef and carrots, bring to the boil and reduce heat. Simmer for 10 minutes.
Add the beef and carrots; stir to mix and bring to a simmer again. Cover and bake at about 250F (120 C) for 2 to 2-½ hours.
Check for seasoning and add a little sugar if needed. For a thicker stew see my tip below. Serve over pasta.
Tip:
This is a lovely light sauce and also an example of how the left and right brain authors have a different point of view. If you prefer a thicker sauce you can alter it using the following recipe just before serving.
Buerre Manié
Rub equal parts of room temperature butter and flour together until fully blended. Make the "dough" into walnut sized pieces. Add the pieces one at a time, whisking into the sauce. Wait a minute or two to watch the buerre manié go into action smoothing out and thickening. Add the little dough pieces judiciously as you don't want to overdo it. (Keep buerre manié balls stashed in your freezer to use for any sauce thickening.)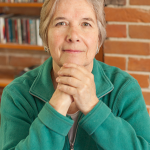 Marilyn's comments:
The thinner texture of this stew led me in the direction of serving it as a soup with penne stirred in and a scattering of Parmesan shavings over top. Joanna served it with noodles, so just use what is on hand! For the whole recipe you'll need about a pound (454g) of pasta, cooked.