LEFT BRAIN: Butter Tarts
A New York Times food article about Canadian butter tarts had our American cousins drooling and asking for a recipe – so here it is! It includes 99-year-old Aunt Rosamond's pastry, which is among the best, ever, and it can be refrigerated or frozen.
As good as Aunt Ro's pastry is, it is far easier to use purchased tart shells as lining muffin cups with pastry is very fussy, but do try her pastry at least once!
The tart filling emerges from the oven, deliciously soft but not runny.
Makes 12 with homemade shells or 16 using purchased shells.
Pastry (two crusts – use one, freeze one)
2 cups (260g) all-purpose flour
1 tbsp (14g) sugar
3/4 tsp (1 g) salt
3 oz (84g) lard or vegetable shortening
2 oz (56g) cold butter, cut into pieces
1 egg
2-4 tbsp (60-120ml) cold water
1 tsp (5 ml) vinegar
Filling
2 eggs
3/4 cup (175 ml) corn syrup
1/4 cup (60 ml) maple syrup or honey
1 tbsp (15 ml) cider or white vinegar
1 tsp (5 ml) vanilla
1/2 cup (100g) brown sugar
1 tbsp (8g) all-purpose flour
1/4 cup (112g) butter, melted
Couple of pinches of salt if using unsalted butter
Nuts or dried fruit (optional)
To make pastry, stir flour with sugar and salt. Using a pastry cutter, cut in lard and butter until mixture resembles coarse oatmeal. Using a fork, combine egg, 2 tablespoons of water and vinegar in a measuring cup.
Stir egg mixture into flour mixture. Then add only enough water, a tablespoon at a time, until dough more or less clings together. There will be a few somewhat dry spots!
Divide in two and heap onto large pieces of plastic wrap to force into a ball, then flatten slightly. Refrigerate to fully hydrate flour, from a couple of hours up to a couple of days; or freeze!
Roll out one pastry so it is a little thinner than you would for a pie crust. Cut 4-inch rounds and fit into cups, using scraps to fill in thin spots as needed.
Place oven rack at lowest level and preheat oven to 375F (190C).
Stir eggs with corn syrup, maple syrup, vanilla and vinegar. Mix brown sugar with flour; stir in syrup mixture along with melted butter.
If you like, place 4 or 5 pecans or broken walnut halves into dough cups – or a modest amount of currants, dried cranberries or raisins. Evenly divide filling among pastry-lined cups.
Bake 18 to 20 minutes. Cool on a rack until warm; run a knife around edges and remove tarts. These butter tarts can be frozen.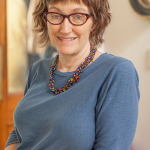 Joanna's comments:
Small sweet butter tarts; a perfect finish for a special evening.
RIGHT BRAIN: Shortbread Tart
This is a lovely way to wrap up a Valentine's Day dinner. The crust is easy and the creamy filling even easier. Top with whatever fruit your significant other fancies.
The only arduous request in the method is to sift before measuring both the icing sugar and flour.
350 F/180 C
Uses an 8"/20cm tart pan with a removable base or a spring form pan
Crust
4 oz/112g salted butter, softened
1/4 cup/20g sifted icing sugar
Zest of a lemon or orange, preferably organic
1 cup/130g sifted flour
Cream Filling
8 oz/256 g (1 package) regular cream cheese, softened
1/4 cup/60ml lemon curd
2 or more 6oz/170g packets of raspberries
Crust
Prepare the pan by thoroughly buttering the sides of the pan and lightly buttering the base. If using a spring form pan butter to about 1"/2.5cm high.
In a food processor, cream the butter and sugar together.
Add zest and the flour and chug until it forms a loose mass of crumbles. You may need a little more flour to get the necessary texture.
Press the pastry into the pan ensuring even sides for presentation.
Prick base. Place some parchment paper overtop, weight it with pebbles or beans and bake for 20-25 minutes.
Leave to cool for 10 minutes and then remove from the pan.
Cream Filling
In the same processor (don't worry about washing it) cream the cheese and lemon curd together until smooth.
Once the crust is completely cool, spread the filling in and cover with berries.
Tip:
This recipe can be used as cookie dough, replacing the zest with 1/2 tsp of extract and holding back a bit of the flour to use for rolling or shaping.
Lemon Curd
I make my own lemon curd but you can buy it. Find a really nice quality one in a specialty shop. If you want to make it try this recipe from Annette Grimsdale's book, Gifts From the Pantry. I try to get organic lemons so the peel isn't compromised.
1 cup/250 ml sugar
1/4 cup/60 g butter, chopped
Zest of 2 lemons
Juice of 3 lemons
3 eggs, beaten
In a heat-proof bowl or top of double boiler placed over a saucepan of hot water, combine sugar, butter, zest and lemon juice.
Place over low heat, cook until butter melts, stirring occasionally.
Stir in eggs (do not let the mixture boil or it will curdle). Continue stirring over heat until the mixture thickens. If you get some little lumps don't panic, just get out your strainer!
Put the curd into a large yogurt sized container and freeze it. It keeps well for a few months (if you don't eat it up right away!). This also means you can just scoop out a ball of the curd instead of measuring since a regular 4oz/60ml ice cream scoop is just fine.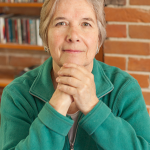 Marilyn's comments:
This enticing tart tastes as good as it looks, as the filling isn't overly sweet and lets the natural fruit sugar and flavour dominate. For the curd, I found the lemon juice measured 3/4 cup (175mL). I don't own a sifter so I use a sieve to both sift and strain.