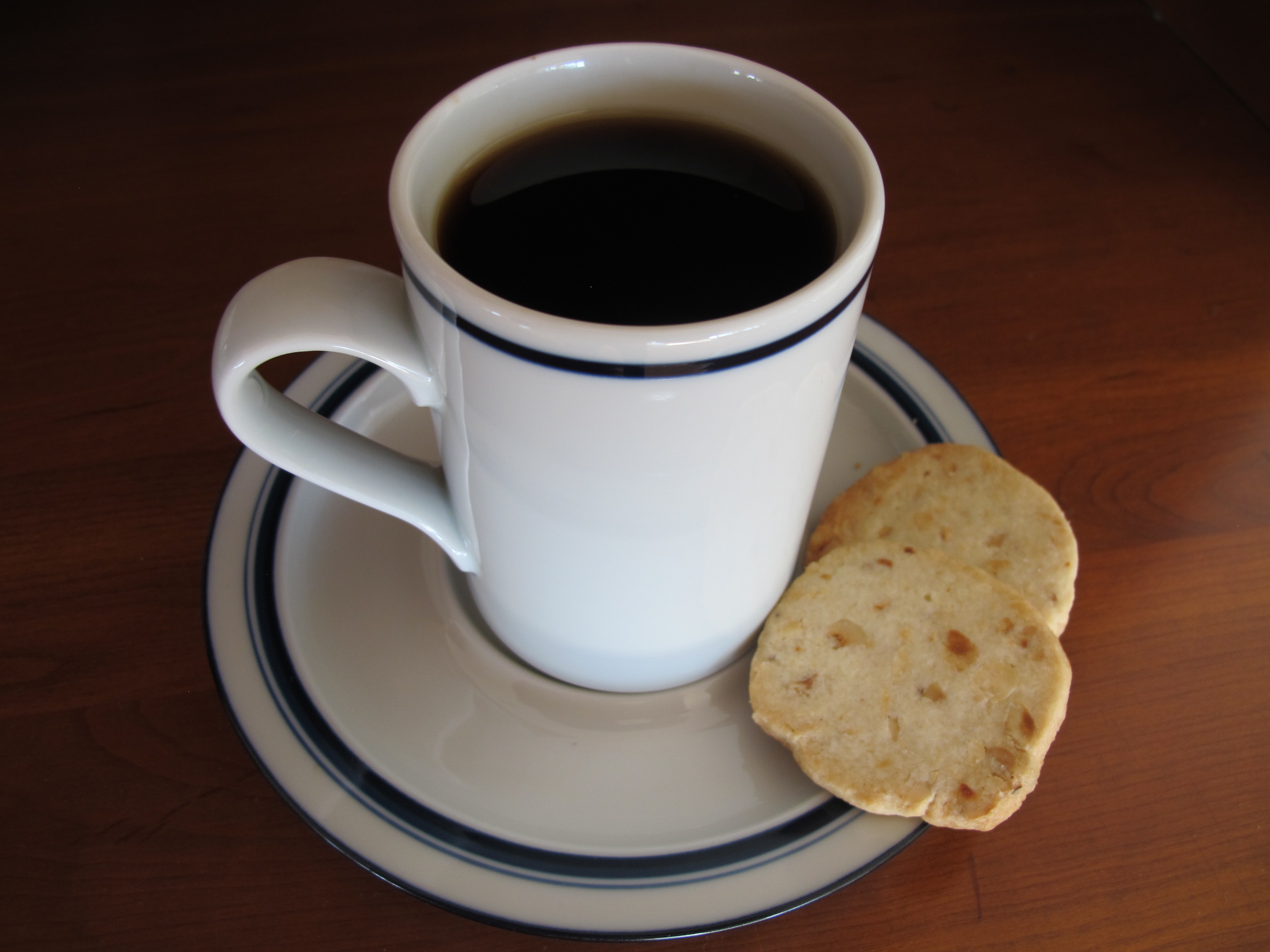 Hazelnut Crisps by Left Brain Marilyn
The page for these cookies in my holiday recipe binder is yellowed with age, and written with a manual typewriter by my mother-in-law Helen – decades ago.  These scrumptious cookies have stood the test of time!
They are good keepers if kept airtight. I like to tuck a couple of them next to a mug of hot coffee that I am serving to guests. Even at the end of a hearty meal, none are ever left behind languishing on the saucer as they are mildly sweet, redolent of nuts and butter, and very crisp.
There is no baking powder or soda in the recipe. They're also very good made with toasted almonds.
Makes 3 1/3 to 4 dozen
3/4 cup (170g) unsalted butter or salted butter, softened
3/4 cup (150g) granulated sugar
Generous pinch of salt, only if using unsalted butter
1 egg – see tips!
1 tsp (5 mL) vanilla
2 cups (280g) all-purpose flour
1 cup (142g) lightly-toasted hazelnuts, coarsely chopped – see tips!
Place rack just above oven centre; preheat oven to 350F (180C).
Cream butter until light and fluffy, using a spatula to clean off sides occasionally. Gradually add sugar and salt (if needed) while beating. Then beat in egg and vanilla.
Stir in flour and hazelnuts. Shape into a 12-inch (30-cm) roll and smoothly roll-up in parchment or waxed paper, sealing ends. Refrigerate for at least 2-hours or up to a couple of days.
When ready to bake, thinly slice 1/8-inch (.3-cm) thick (a scant width of a piece of dry fettucine). Lay on pan topped with parchment paper. Bake one tray at a time for 12 to 14 minutes or until lightly browned on the edges.
Cool on a rack before storing airtight.
Tips:
Egg
When using an egg after creaming butter with sugar, don't use it cold, ever, as it breaks up the air bubbles in the butter emulsion. Instead place the cold egg in a measuring up and cover with hot tap water (no, it doesn't cook!). It will warm perfectly as you get the remaining ingredients assembled.
Hazelnuts/Filberts
The only hazelnuts that I can find are at our town's terrific health-food bulk store. The skin is still present which is a bitter. So spread nuts out on a sheet and bake at 300F (150C) for 10 minutes or until you see the skins loosening and detect a fragrance of roasting nuts. Turn out onto a clean towel and rub until most of the skins are gone from the nuts. Being somewhat particular, I then half-fill a large glass jar with the warm nuts and shake vigorously which dislodges even more skin bits. Chop nuts coarsely while warm.